Michaela Coel: A rising star at the National Theatre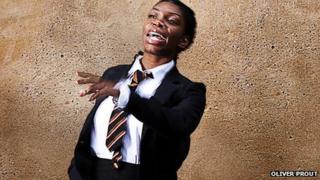 Chewing Gum Dreams, the dreams of the abandoned and forgotten, the ones which get flattened, stuck to filthy pavements, trodden on by those who barely register their faded existence any more.
It is the title of a new one woman show on at the National Theatre's Shed venue, written and performed by poet, singer and actress Michaela Coel.
To say that the 26-year-old from Hackney, east London is something of a rising star at the National risks a degree of understatement.
The show is her third consecutive appearance in a NT production at the red-wooden venue on the South Bank in London. She appeared in Nadia Fall's powerful Home and followed it up with Nick Payne's gender politics piece Blurred Lines, written following the success of Robin Thicke's controversial global hit.
During the National's early days right up until the early 2000's, it was common for an actor to star in consecutive NT productions. In 2000, Oscar-nominee Chiwetel Ejiofor acted in Peer Gynt, Romeo and Juliet and Blue/Orange.
The last two actors to do the same were Elliot Levy and Michelle Terry across 2009-10.
Coel, it transpires over the course of the interview, already has a fourth production in the pipeline.
"I've been cast in something else," she beams. "And it's not in the Shed, I'm moving into the house from the garden."
"It's on at the Olivier (the biggest of the National's three theatres), it's Medea which Carrie Cracknell (Blurred Lines) is directing so I'm very excited to be playing the nurse.
"Once again, I can't quite believe that I get to work at the National, I've only just finished drama school so I just feel very, very lucky. The more work I see there, the more I feel a sense of pride for the theatre.
"I'm glad to be a part of it."
Chewing Gum Dreams, a 45 minute-long semi-autobiographical monologue is "partly based on my own experience of growing up".
On a set decorated with a single chair, Coel - in character as 14-year-old Tracey Gordon - talks about boys, friendship, school and sex.
She's not always pleasant but she is a frank and funny and often stark and moving - a tribute to Coel's energetic performance.
In her own words, Tracey "ain't smart enough to be someone, just smart enough to know I'm a no-one".
Domestic violence, racism and a savage indictment of an uncaring education system all come under Coel's gaze.
"In a scene of quiet lyricism, Tracey's (white) boyfriend tells her to aim higher than the cracks in the floor, but she shrugs: 'why bother?'" says Maddy Costa in the Guardian's review.
"Often it's through silent gestures, the wide-eyed amazement that anyone should admire her and the shivers of alarm at any expectation of her, that Coel communicates most about Tracey's lack of self-belief."
If Tracey is only a small part of Coel, the actress says she also represents many of the friends with whom she grew up.
"What partly drove me to write it is my luck in the direction I've ended up in and seeing what happened to a lot of my friends, who I know had so much potential.
"I called it Chewing Gum Dreams because I was thinking about all the aspirations we have when we're younger before we're taught there's a certain benchmark above which we can't aim.
"Our dreams, like on the high rise estate which I grew up on, the dreams end up like dried up chewing gum on the floor.
In her four-star review in the Evening Standard, Fiona Mountford praises "a solo performance of quite some note".
"Tracey's young life is already circumscribed by domestic violence and aggressive sexuality and behind all the braggadocio lurks a very real fear that the future holds precious little for her and her peers."
After "feeling like a hamster on a wheel in the kind of school I went to," Coel reluctantly followed in the footsteps of her sister, now a psychology teacher, and went to university.
She briefly studied political science before dropping out and applying to drama schools. "I think I went to one lecture," says Coel.
Her mother, a cleaner at the time, now a carer, "was not happy at all".
"My mum was disturbed," she continues. "And she kept handing me university applications before I got into Guildhall".
Two years ago she graduated from the drama school - where the alumni include Daniel Craig, Damien Lewis and Fay Ripley. Coel says: "I was very lucky in that I got a scholarship for my first year and then my next two years I won the Laurence Olivier bursary."
In recent times, many established actors, including Andy Serkis, Dame Helen Mirren and Julie Andrews have all expressed grave concerns that only those from financially secure backgrounds will be able to afford to attend drama school.
It is something to which Coel, who grew up in Tower Hamlets in east London, can relate.
"I was the only person in my year whose parents didn't own a house and I remember thinking it was weird. It is worrying because there's a whole group of amazing actors who may never find their potential or discover that part of themselves. There have to be more scholarships."
Coel's faith is equally important to her, having undergone "a massive weird spiritual conversion" when she was 18. Though she is no longer a member of the same church, "there always seems to a an element of faith in my writing".
On television, Coel was one of a young black cast of the Channel 4 series Top Boy.
Last week, comedian Lenny Henry highlighted the fall in the number of black, Asian and minority ethnic (BAME) people in the broadcasting industry.
Henry cited the examples of celebrated British black actors David Harewood and Idris Elba who located to the US to find roles.
Coel says, for a young black actress, it can be even worse. "For all the theatre I've done, I can count on the fingers of one hand the auditions I've had for television.
"Even in American TV, they like big, strong dark men and exotic looking fair women. I have not seen one black British actress apart form Marianne (Oscar-nominated British actress Marianne Jean-Baptiste) that has gone to America and had a successful career.
"I see article after article about black men, none about black women.
"But I think it's about writing, it's about casting directors being braver, (12 Years a Slave director) Steve McQueen is one of them. And I'm hopeful that I have power to change things myself."
Chewing Gum Dreams is on at The Shed until 4 April.