Japan drags down global music market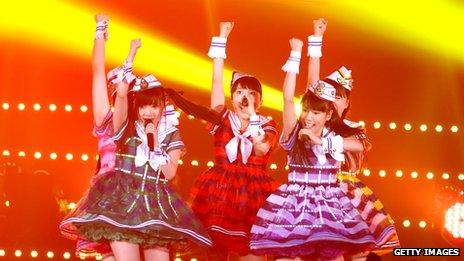 A sharp decline in music consumption in Japan caused overall global growth to slow down in 2013, according to figures from the International Federation of the Phonographic Industry (IFPI).
The 16.7% slump in Japanese sales caused world figures to slide by 3.9%.
But European music consumers had a buoyant year, registering their first growth for 13 years, while digital sales in the US rose by 3.4%.
Japan largely relies on physical sales of music, which did not perform well.
The country - which is the world's second largest music market - is seen as unique among developed nations for its reliance on CDs and the lack of user-friendly music download services on smartphones.
Along with South Korea, Japan is in the only country in 2013 to have a top 10 album rundown entirely made up of local artists.
Excluding Japan from the new figures, the world music market remained stable with 0.1% growth last year.
The IFPI in its annual report said that overall digital sales went up by 4.3% with subscription music services such as Spotify playing an important role.
The organisation said it expects 100 million people to engage with these platforms in the next few years.
Subscription services have grown by more than 50% globally in the past year, while the US market surpassed $1bn for the first time.
Europe's digital consumption of music went up by 13.3%, including its five major markets - France, the UK, Germany, Italy and the Netherlands.
But Spain's fortunes have continued to slump and the country is seen as having a serious piracy problem.
Some emerging markets in Africa and Latin America have seen an uptake in digital music through initiatives to reach consumers via their mobile phones.
Peru's digital music market rocketed by almost 150% last year, for example.
But the fight against music piracy and illegal downloads is one that has yet to be solved, the IFPI has admitted.
They said the power of copyright will continue to be enforced against those who continue to argue that regulations stifle innovation.
Physical music formats have held their own, still accounting for more than half of all music sales around the world in 2013.
Consumption of vinyl records in the UK doubled in the past year, while de luxe formats such as box sets have bolstered the traditional market.
The IFPI's annual round-up confirmed that One Direction topped their global recording artist chart for the second year running, and also had the best-selling global album.
Their release Midnight Memories sold four million copies worldwide.
Robin Thicke's Blurred Lines topped their best-selling single rundown, shifting 14.8m copies.
Related Internet Links
The BBC is not responsible for the content of external sites.