Veronese masterpieces brought together for first time in UK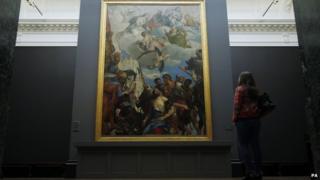 A colossal work by the 16th century painter Veronese forms the centrepiece of the first ever exhibition devoted to the artist in the UK.
The Martyrdom of Saint George (c. 1565) has never before been on loan from its home in a church in Verona.
The only time it left was in 1797 when it was taken to Paris by Napoleon's troops. It was returned in 1815.
The work is part of National Gallery's Veronese: Magnificence in Renaissance Venice exhibition.
The show, which opens on Wednesday, brings together 50 of the artist's works, many of which have been brought to London from across Europe and the US.
Curator Xavier Salomon said the Martyrdom of Saint George had been "top of the list" when putting the show together.
"It is the single greatest loan in the exhibition," he said. "At the beginning we thought it would be impossible, but things do sometimes work out."
The 4.3 metre tall oil on canvas painting shows George looking up to heaven as he refuses to worship Pagan idols. It was brought "easily and safely" by truck from Verona to London.
Paolo Caliari (1528-1588) - known as Veronese - was one of the giants of 16th century Venetian painting alongside Titian and Tintoretto.
His works adorned churches, palaces, villas and public buildings throughout the region. The paintings in this exhibition represent the artist's output at every stage of his career.
"His life was pretty boring," admitted Mr Salomon. "He was born, he trained as an artist. His marriage was very happy, he had children, he died.
"He didn't kill anyone and he didn't travel as far as we know outside the north of Italy.
"He's an artist who found the recipe for a great picture early on. He comes out of the workshop fully trained and sticks to that recipe all the way until the end of his life."
Other celebrated works include The Mystic Marriage of Saint Catherine (1565-70) from Gallerie dell'Accademia, Venice, and Supper at Emmaus (1555) from the Musee du Louvre, Paris.
"His combination of great compositions and use of colour make him an extraordinary artist," Mr Salomon told the BBC.
"He constructed compositions in a theatrical way with figures on the sides as if all is happening on stage in front of us."
National Gallery director Nicholas Penny said that creating exhibition had been a "huge logistical operation". It involved clearing out several rooms used for the permanent collection to allow the Veronese works to be seen in natural light.
Reviews of the show have been largely ecstatic, with The Guardian's Jonathan Jones describing it as "an exciting an encounter with great art as you can ask for".
Veronese: Magnificence in Renaissance Venice is at the National Gallery from 19 March - 15 June - with admission charge.