Paul Greengrass: Young UK directors 'need more support'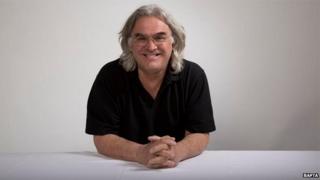 Film-maker Paul Greengrass says young British directors are not being given the chance to thrive and develop.
Speaking at Bafta, he said: "Of the directors in the UK lucky enough to make a film, only a tiny, tiny percentage ever get a second chance.
"To put that another way, most British films, and it's well over 80%, are made by inexperienced first-time directors."
The Oscar-nominated Captain Phillips director called for more investment to "nurture" newcomers.
He noted that British directors were being squeezed out by Hollywood productions, which have booked up the UK's sound stages - and said foreign studios should be encouraged to put money back into the UK.
"Our industry is booming, which is good, but we have to use that historic opportunity to leverage the tax breaks we offer.
"Leverage them against the studios, in order to create opportunities for our own producers and directors to make UK-distinctive content, because that's where the problem is.
"In the end, [this] is the only sustainable road to growth."
Greengrass added that Hollywood films were coming to the UK because it is "cheap", and voiced regret that local unions had been weakened.
"Hollywood is full of smart, committed people," he said, "And it also has guilds and crafts and trade unions with power and a voice.
"Which is why the studios tour the world looking for places that don't, like the UK, where it's cheaper to make films.
"Now I'm all for an economically progressive labour market. Our future as an emerging film-making powerhouse depends on it, but it does not, it absolutely does not require us to erect the kind of work experience, rip-off culture in the UK film and television industry today."
"Directors should be treated as part of the creative process and with respect, as they are in America. We need to push for that."
Greengrass, who is president of the professional body Director's UK, cited Doctor Who as an example of how some directors get a raw deal.
"The director who directed the first episode, the one who set that style, who contributed enormously to its success... That director earned by a wide, wide margin less in residuals [repeat fees] than the stuntman. That's a fact."
If the programme has been made in the US, he added, the director would have taken a bigger share of the success.
Greengrass first came to prominence with TV dramatisations of Bloody Sunday, the Omagh bombings and the murder of Stephen Lawrence.
The 58-year-old said TV was the perfect training ground, allowing him to find his voice, and he would not rule out a return to the small screen.
"Television gave me a world to explore, a way to be, a language to use, something to aim at."
But he also said today's TV directors were being sidelined, often hired at the last moment, and sometimes "excluded" from the cutting room.
"And of course if you complain, you're blacklisted," he added. "The next generation, the lifeblood of our industry's future is being destroyed."
His Hollywood career has included Oscar-nominated films Green Zone and Captain Phillips, as well as blockbuster action films The Bourne Supremacy and The Bourne Ultimatum.
The secret to directing is that "you have to be prepared to be arsey," he joked. "You've got to be singular, and if necessary you've got to be unutterably difficult."
More seriously, he observed: "You have to have something to say, and you have to burn with a great desire to say it."
He was delivering Bafta's annual David Lean lecture, named in honour of the film-maker who co-founded the organisation in 1947.
Previous speakers have included Robert Altman, Oliver Stone, David Lynch and Pedro Almodovar.