Ghostbusters 3: Director Ivan Reitman leaves after Harold Ramis's death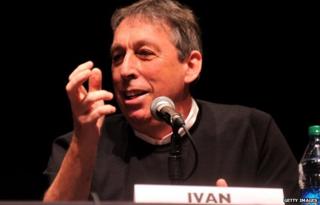 Ivan Reitman, who made the first two Ghostbusters films, says he will not direct the third instalment following the death of its star Harold Ramis.
Speaking to Deadline Hollywood, Reitman said he made the decision after attending Ramis's funeral last month.
"It was really moving and it made me think about a lot of things," he said.
He will remain on board as a producer, helping Sony to find a new director. The film studio hopes to start shooting Ghostbusters 3 in early 2015.
Reitman had been attached to the movie for several years, during which time it went through several rewrites and a failed attempt to persuade Bill Murray to reprise his role as Dr Peter Venkman.
Murray "never actually said no, but he never said yes," said Reitman, confirming that the current version of the script will only feature the original Ghostbusters "in a very minor role".
The new story has been written by Etan Cohen (Tropic Thunder, Men In Black 3), with assistance from Dan Aykroyd, who wrote and starred in the first two instalments.
"We now have a draft that is very good, that the studio is very excited about," Reitman said.
Ramis, who starred as bespectacled ghost-hunter Egon Spengler in the 1984 original and its less well-received sequel in 1989, died last month at the age of 69.
A leading light of 1970s and 80s comedy, his credits included Caddyshack, Animal House and Groundhog Day, in which he directed Murray.
He had been suffering from autoimmune inflammatory vasculitis for several years.