New comedy and Bad Education return set for BBC Three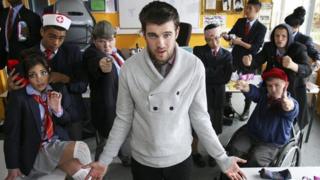 Comedy series Bad Education, Bluestone 42 and Some Girls will return to BBC Three as the channel heads towards its new, online future.
They will be joined by the newly-commissioned 600 Days, and the pilot episode of spoof cop show, Top Coppers.
The current round of comedy commissions will be seen on air, before the channel departs to the iPlayer in 2015.
Bad Education star Jack Whitehall is among the stars who have campaigned for BBC Three to be saved.
He plays a teacher who is a bigger child than the ones he teaches in the hit comedy, which is set to return in the autumn.
New six-part comedy 600 Days - a working title - is about a straight-laced young man who finds himself on the wrong side of the law.
Played by stand-up comedian Elis James, the main character, Luke, is sentenced to two years in a Young Offenders Institution and quickly has to pick up street smarts to survive.
'Cutting edge' comedy
Pilot Top Coppers is an action comedy about police detectives John Mahogany and Mick Rust, played by Conor McKenna and John Kearns.
Some Girls and Bluestone 42, also both commissioned for third series, are to be broadcast in the autumn or winter.
Bluestone 42 - the critically-acclaimed series following a bomb disposal unit in Afghanistan - has been commissioned for a further six 30-minute episodes.
Meanwhile, the third series of Some Girls will follow the lives and loves of four schoolgirls - Viva, Amber, Holli and Saz - and their bumpy journey through sixth form.
BBC Three controller Zai Bennett said the comedy commissions "demonstrate our ongoing commitment to bring our viewers more even more cutting edge, exciting and most importantly of all, funny, comedy this year."
"BBC Three is at the heart of new comedy in the UK and is not only still on air, but thriving."
Earlier this month, the BBC announced plans to take BBC Three off the air, after which it would only be accessible via the iPlayer.
The plan still needs approval from the BBC Trust, the corporation's governing body, which represents the interests of licence fee payers.
BBC Three officially launched in 2003, although it initially began life in 1998 as BBC Choice - the first BBC channel to air exclusively on the digital spectrum.