Roy Orbison: Unreleased songs to see light of day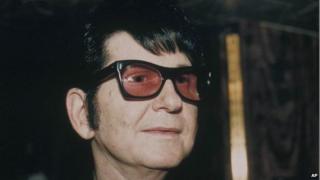 The three sons of late rock'n'roll legend Roy Orbison have helped produce an unreleased song by their father.
The Way Is Love was pieced together by Wesley, Alex and Roy Orbison Jr after finding an old vocal recording on a home tape machine.
They reclaimed it using technology which, they say, was specifically developed to accomplish the task.
The track will appear on the 25th anniversary edition of Orbison's final album, Mystery Girl.
The singer died of a heart attack in December 1988, aged 52, two months before the record was originally released.
A total of nine previously unheard songs will be added to the deluxe edition, which is due on 20 May.
The Orbison brothers added new instrumental recordings to The Way Is Love with the help of another offspring of a music legend, co-producer John Carter Cash.
"It really brought us closer together in a lot of ways," said Alex Orbison, 38, who contributed drums and backing vocals to the track.
"We were able to finish it up and get it out by Father's Day, too, which was obviously special to us," he told the Associated Press news agency.
"We all just wanted to not stop recording," he added. "We had so much fun. It was really too much fun.''
It is not the first time such recordings have been reclaimed to create new songs.
Fifteen years after John Lennon's death, The Beatles extracted his vocals from a cassette tape to produce Free As A Bird, which was released to promote their 1995 Anthology project.
Orbison, whose hits included Oh, Pretty Woman, was going through a career renaissance prior to the release of Mystery Girl, and was working with Bob Dylan, George Harrison, Jeff Lynne and Tom Petty in The Traveling Wilburys.
Mystery Girl included contributions from Tom Petty, Bono and the Edge of U2, and Elvis Costello.