Divergent beats Muppets to top US box office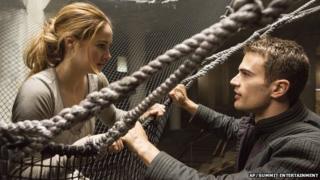 Sci-fi thriller Divergent, the latest young adult movie franchise, has topped the US and Canadian box office chart.
Based on the Veronica Roth books, the film took $56m (£40m) over the weekend, according to studio estimates.
It is the third franchise based on young adult best-sellers from Lionsgate after Twilight and The Hunger Games.
It made less than anticipated but Richie Fay, president of domestic distribution for Lionsgate, called it "a great beginning".
Twilight opened with $69.6m (£42m) and The Hunger Games with $152.5m (£92.5m).
"The key to the success of these franchises is finding the difference and marketing it," said Fay.
"It's not easy. And I think we're doing it better than anyone else right now, frankly."
Shailene Woodley and Theo James star in Divergent, which also features Kate Winslet and is set in a dystopian Chicago where society is divided into five factions. One of them, the Divergents, are targeted to be destroyed.
Muppets sequel Muppets Most Wanted, starring Ricky Gervais, did not fare as well as expected, taking $16.5m (£10m) over the weekend.
The original Disney Muppet movie reboot opened with takings of $29.2m (£17.7m) in 2011.
Disney head of distribution Dave Hollis admitted it was disappointing, especially as advance tracking had suggested the sequel would do better.
"There certainly was something in the last Muppets - not having anything available for fans for a while - that satisfied pent-up demand that we didn't have the benefit of this time around," he said.
In its third week of release, Mr Peabody and Sherman continued to do well - it took $11.7m (£7m) putting it in third place.
The biggest surprise was the film God's Not Dead, which made $8.6m (£5.2m), despite playing on just 780 screens.
The independently released faith film is about a college student who battles his philosophy professor as he refuses to sign his declaration that God is dead in order to pass his course.
Meanwhile, the film version of the TV show Veronica Mars made just $144,000 (£87,000) in its second week.
The movie, which was funded by fans via Kickstarter, has made a total of $2.9m (£1.7m) for Warner Bros.