EastEnders' Timothy West: 'Soaps undervalue old actors'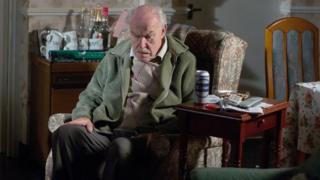 Actor Timothy West, 79, has criticised TV soaps for not putting enough value on older characters and actors.
He currently plays Stan Carter, the father of Queen Vic landlord Mick, played by Danny Dyer, in EastEnders.
West told the Radio Times: "I find they're not valued so much and I suspect that's one of the reasons why I've been brought in [to EastEnders]."
The actor, who played a guest role in Coronation Street, took the role of Carter "because it's a good part".
West, who was asked by the magazine if there were enough older people in soaps, added: "From what I hear, there hasn't been enough interest in older characters. Or enough older characters to be interested in."
He revealed the ill-tempered, retired fishmonger Carter will cause problems for his family in the next few weeks, when an ankle injury results in him moving into the Queen Vic.
The grandfather is one of several new characters to be introduced since Christmas, when Dyer arrived as the new landlord to shake up Walford Square after a ratings slump on the soap.
The character of busybody Babe Smith, played by Annette Badland, 63, has also been introduced to help reinvigorate the soap's older generation - which includes the soap's long-running star June Brown.
West said he has "enormous respect" for his 87-year-old co-star, who plays Dot Branning.
The actor, who played businessman Eric Babbage during his time in Coronation Street last year, also recently filmed a new More4 documentary with his wife, the actress Prunella Scales, navigating Britain's canals.
While speaking about their series Tim and Pru's Slow Boat earlier this month, West revealed that Scales has "a sort of mild Alzheimer's" and "can't remember things very well".
The couple were praised by The Alzheimer's Society for "raising awareness" and showing it is "possible to live well with dementia and plan to carry on enjoying life."