Tim Waterstone 'predicts e-book decline'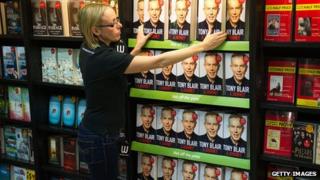 Tim Waterstone, the founder of the Waterstone's book shop chain, has predicted that the "e-book revolution" will soon go into decline in the UK.
He told the Oxford Literary Festival printed books would remain popular for decades, the Daily Telegraph reported.
"E-books have developed a share of the market, of course they have," he said.
"But every indication - certainly from America - shows the share is already in decline. The indications are that it will do exactly the same in the UK."
For the first eight months of 2013, e-book sale were worth $800m in the US, down 5% on the same period the previous year, according to the Association of American Publishers.
Meanwhile, hardback book sales rose 11.5%.
Full sales data for 2013 are not yet available.
In the UK, 3.3 million e-books were sold in April 2013, according to Nielsen research - down 0.1% on the same month the previous year.
It was the first year-on-­year decline since e-books appeared, The Bookseller reported.
Mr Waterstone said: "I think you read and hear more garbage about the strength of the e-book revolution than anything else I've known," the Telegraph reported.
He set up the book shop chain in 1982 and sold it in 1993. It is now owned by Russian billionaire Alexander Mamut.
'Immovable' product
Mr Waterstone added: "The [physical] product is so strong, the interest in reading is so deeply rooted in the culture and human soul of this country that it is immovable.
"The traditional, physical book is hanging on. I'm absolutely sure we will be here in 40 years' time."
His comments come a year after he announced the development of Read Petite, an subscription service for short stories on e-book.
"I am certain that if more people acquire the habit of reading, the more they'll stick with it and the more they'll read," he told The Guardian last April. "And if that's going be entirely digital in 50 years' time, so be it."
He also said during the interview: "Anyone who tells you they know the future is telling you the most grotesque lie, because none of us do."