Justin Bieber booed at Canada's Juno Awards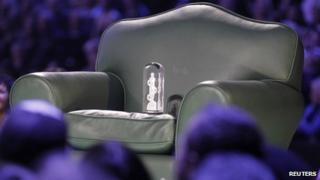 Pop singer Justin Bieber received a chorus of boos as he won the fans' choice prize at Canada's Juno Awards.
The 20-year-old was not present to collect his award - or hear the reaction - after beating the likes of Celine Dion, Drake and Michael Buble.
The crowd were later scolded by Serena Ryder, who won songwriter of the year.
"Justin Bieber is an amazing musician and he deserved every bit of that award because he's been working his ass off his entire life," she said.
"We need to support how awesome he is. He's great. He's amazing."
Bieber's award was collected on his behalf by members of Canada's Olympic women's curling team.
The pop star has had a troubled start to 2014, after being arrested for driving under the influence in Miami.
Police in California also searched his home after he allegedly threw eggs at a neighbour's house.
The Juno Awards are Canada's equivalent of the Brits and the main winners on Sunday were pop duo Tegan and Sara.
The identical twin sisters won group of the year and best single, for the celebratory love song Closer.
Although the song failed to chart in the UK, its parent album, Heartthrob, was the band's first to trouble the top 40, reaching number 38 in February last year.
Their seventh release, it was named best pop album at the Junos.
"I don't think very many people, and especially not us, thought two queer kids from northeast Calgary would get to here," said Tegan, "but here we are."
Rock outfit Arcade Fire won the overall album of the year prize, accepting their award via video from their tour in South America. They also won for alternative album of the year.
Canada's national public broadcaster CBC reported that former astronaut and commander of the International Space Station, Chris Hadfield, introduced Bachman-Turner Overdrive.
The band were inducted into the Canadian Music Hall of Fame and CBC said he "managed to croon some of BTO's lines himself before Randy Bachman, Fred Turner, Blair Thornton and Robin Bachman took to the stage".
"Good music is an international language, even in space," he said.
Blurred Lines singer Robin Thicke, who was up for three awards, also failed to show up, having cancelled his performance at the awards to rest his voice.
Awards organiser the Canadian Academy of Recording Arts and Sciences, said on Sunday morning that Thicke had been placed on "mandatory vocal rest," The Hollywood Reporter said.
His absence coincided with an online petition calling for his removal from the show for "blatant sexism."
A Tribe Called Red, a band that combines electronic and First Nations music, took the prize for breakthrough group of the year while breakthrough artist of the year went to Brett Kissel.
Bruno Mars won the international album of the year for Unorthodox Jukebox.