How I Met Your Mother finale airs in US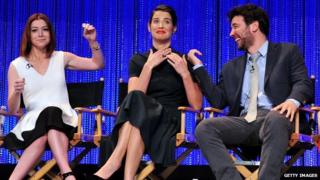 The long-running US sitcom How I Met Your Mother has come to an end after nine years with an hour-long episode containing more than one plot twist.
The 208th instalment of the CBS show revealed how the titular 'I', played by Josh Radnor, met the mother of his two children, played by Cristin Milioti.
But there were further developments in store for the cast - including Alyson Hannigan and Cobie Smulders.
A spin-off series, How I Met Your Dad, is currently in the pipeline.
Since How I Met Your Mother began in 2005, fans have been hooked by the story Radnor's character, Ted, had been telling his children.
In the pilot, he warned the teenagers the story of how their parents got together would be a long one. 208 episodes later, the story was resolved.
Parts of Monday's finale was filmed in 2006, as producers feared the actors playing the children, David Henrie and Lyndsy Fonseca, would become unrecognisable.
Speaking on Monday at a New York screening of superhero sequel Captain America: The Winter Solder, Smulders said she was "thrilled" by the final episode and that the show had come "full circle".
Fellow cast member Neil Patrick Harris, who played incorrigible ladies' man Barney Stinson, can currently be seen elsewhere in the city in a Broadway production of rock musical Hedwig and the Angry Inch.
Forgetting Sarah Marshall star Jason Segel and American Pie actress Hannigan also featured in How I Met Your Mother, which airs in the UK on E4.
The show drew censure earlier this year when an episode partly set in China was criticised for showing cast members in so-called "yellowface" make-up.
The final episode got a better response from the New York Times, who said it came "crammed with all the deflection, distraction and guile that made this CBS comedy the Scheherazade of prime time".
Frances Ha star Greta Gerwig plays the lead role in the pilot of How I Met Your Dad, the plot of which will reportedly not dovetail with that of its predecessor.