How to turn Under Milk Wood into an opera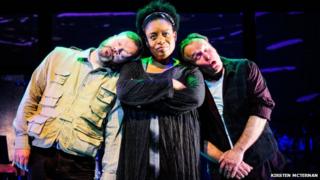 As part of the festivities for Dylan Thomas's centenary, an operatic version of his famous radio play Under Milk Wood has had its world premiere in Wales.
The opera is composed by John Metcalf, who puts Thomas's original text to a soundscape of instruments and live and recorded sound effects.
"It's a very small opera with a huge range of sound," said Metcalf, speaking just before the first performance at the Taliesin Arts Centre, Swansea, on Thursday night.
"We are trying to imagine what Dylan Thomas would have done if he'd lived in the digital era."
A company of eight singers and five musicians brings to life the mythical village of Llareggub where Captain Cat and his fellow villagers reveal their hopes and dreams over the course of a day.
The opera is one of several versions of Under Milk Wood this year. A new Clwyd Theatr Cymru production, starring the Game of Thrones actor Owen Teale, is touring Wales, England and the US.
National Theatre Wales' Raw Material: Llareggub Revisited reimagines Thomas's work in theatrical installations across the town of Laugharne, in Carmarthenshire, west Wales, in May 2014.
In this Q&A, John Metcalf explains how he turned a classic text into an opera.
How long have you been working on the idea?
There was a cast party in July 2007 during the run of my last opera, and I happened to mention I'd been thinking of doing some work on Under Milk Wood. I started composing later that year and the first workshop was in 2008.
It's been about six and half years - and it took the centenary to provide the opportunity to get the resources to do an independent production.
You were born, like Dylan Thomas, in Swansea. How close a connection do you have with Under Milk Wood?
I do feel a close association with it. I lived near Swansea on the Gower Peninsula for six years. Since that time I've lived in Canada and came back to live in west Wales. I live about four or five miles as the crow flies from the house where he is meant to have conceived Under Milk Wood.
I feel as if my geographical credentials are pretty impressive.
I love the lyricism of the work. One curious thing is I've never heard it on the radio. I've seen about five stage productions, but it is a radio play. I've gone back to that.
Doesn't the language make it a musical piece already?
It is a musical piece. Something that composers often forget is that great actors have an incredible range of rhythm and timbre and pitch. With singers you can go even further.
I look upon composing with words like a terraced garden. You have things at a different height but they all get the light somehow.
My aim is to get all those important words poking through the texture so you can really hear them. That's been a big challenge.
How demanding a work is it?
My music is extremely complex and demanding. I sing my heart out in the piece. That's what opera is about. You just sing until the tears roll down your face.
To that extent it's not difficult for the audience. But it's 110 minutes straight through - it's like a normal film release.
There are a huge number of characters and situations. That is the challenge for the audience, I think. The eight singers play some 30 characters and switch from one to another on a sixpence.
Does the audience need to know the play to enjoy it?
One of the challenges of artistic work is that you need some way in, whoever you are; otherwise it's like going into a room where everyone else is speaking Latvian.
My hope would be that it will move out of its localised cultural context to a more general one in the way that good artistic work can do.
How much does Under Milk Wood reverberate outside Wales?
It is one of those works that's got an incredibly high awareness in some parts of the world, but is very patchy in others.
It's quite well known in English-speaking Canada, as it is in New York, but it's hardly known at all in French-speaking Canada.
I was in Beijing in December and they had no idea what it is.
How widely will this travel?
It is being recorded for release. And that's almost the best thing that can happen to a new opera.
Unlike a subsidised company that would have the orchestra and soloists on contract, if this goes anywhere the cost has to be found. That can be a hindrance.
What makes this different from other operas?
All of the instrumentalists are on stage all of the time. The normal convention is that instrumentalists in an opera sit behind a music stand. But here parts of the music are memorised by the instrumentalists so they can move. That's an important aspect.
Under Milk Wood Wood premieres at Taliesin Arts Centre, Swansea, (3-5 April 2014) then on tour around Wales (8-15 April).