The retired doctor with a surrealist art treasure trove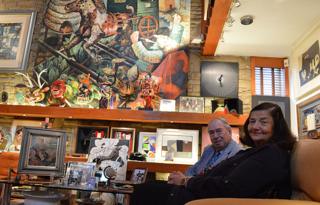 A retired GP and councillor from Leeds has amassed what is thought to be the largest collection of British surrealist art. It normally adorns his home but is now going on public display.
Every wall of Dr Jeffrey Sherwin's house is crammed with frames containing bright colours and contorted shapes. More pictures lean up against the walls, waiting for space.
On the floor, they jostle with all sorts of strange sculptures. There is a pair of legs leading up to nothing but a steel bucket. This turns out to be by artist Richard Niman.
Unnervingly, there is a middle-aged man's head with a false beak on a pole, by John Davies; and a large, menacing stone-carved face by Irish artist FE McWilliam, which looks like an evil Barbara Hepworth sculpture.
There are two small Henry Moore bronzes on a desk, which has two Moore etchings leaning against its legs. Elsewhere, distorted figures and disjointed shapes melt together in a muddle.
It is all a bit surreal.
It is surrealist art, obviously, but it is also a little strange to find it in the suburban home of a former doctor and Conservative councillor.
He is a pillar of the community, albeit one with a collector's obsessive nature and perhaps a mildly eccentric streak.
I ask how many works are in the collection. "Too many for the size of house," replies Dr Sherwin's wife Ruth.
Dr Sherwin answers: "Overall, about 300. Which is modest by collectors' standards such as Charles Saatchi.
"I'm just an ordinary bloke who collects pictures, basically," he says. "They're on the wall, some of them are leaning up against the wall, some of them are stored in the spare bedroom."
His pockets are certainly not as deep as Saatchi's - but British surrealist artists have never been as fashionable, or as expensive, as their continental cousins, such as Salvador Dali or Rene Magritte.
His collection is significant enough, though, to have sent works on loan to the Tate in London and the Museum of Modern Art in New York, as well as galleries in France, Spain and Germany.
Much of his collection has now been temporarily moved to Abbot Hall Gallery in Kendal, Cumbria, where it is being shown in an exhibition titled British Surrealism Unlocked.
And Dr Sherwin has written a book on the history of surrealism in the UK.
"The thing about surrealism, and British surrealism in particular, is that it takes an everyday situation and turns it on its head," Dr Sherwin says.
"You see things that you recognise, but you see then in a context in which you wouldn't normally expect to see them. So it makes you stop and look again. This was interesting for me."
'Intimidating' galleries
The couple began collecting after seeing an exhibition at Leeds Art Gallery in 1986, which celebrated the 50th anniversary of the first surrealist exhibition in the UK.
"Ruth and I went around and thought, 'Wouldn't it be rather nice to have one or two examples in our own home?' " Dr Sherwin says.
He had, he says, "a little spare cash" after selling a health centre he had built in Leeds, so visited a specialist gallery in Cork Street, London.
"I have to say we felt rather insecure," he recalls. "It looked the sort of gallery where you'd have to count your fingers when you came out. But one of the directors made us feel at home and we felt more relaxed."
Splashing out
They were taken with a print called The Chess Players by Merlyn Evans, which was available for £1,000.
"We'd never spent £1,000 on a picture before and we stood on the pavement outside the gallery and, for the first time for many years, my fingertips perspired with fear and concern," Dr Sherwin says.
"The last time that happened was when I thought I couldn't answer one question on my A-level physics paper. But we agreed, and that was our first ever picture.
"And from then on, we started to take an interest and buy one or two pictures. Slowly we built up an understanding and a love of the British surrealists and what they were doing."
As chairman of the leisure committee of Leeds City Council, Dr Sherwin also led the plans to build an extension to the Leeds Art Gallery, which became the Henry Moore Institute.
As a result, he got to know Moore. He says the great sculptor artist was associated with the British surrealists until 1942, when he was thrown out for accepting a commission from a church in Northampton. Surrealism was not supposed to be compatible with religion.
"I maintain that if you look at the work Henry Moore produced, there are strong surrealist elements in most of his work," Dr Sherwin says. "His early years as a member of the surrealist group stayed with him for the rest of his life."
Dr Sherwin's collection also includes a painting by pop artist Sir Peter Blake and an early collage by Damien Hirst, who is not normally thought of as a surrealist.
"A cow and calf cut in two in formaldehyde? Is that not?" Dr Sherwin responds.
Midnight rehangings
Concerned about security, Dr Sherwin is reluctant to talk about how much his collection is worth. "The value is irrelevant," he says flatly.
Over the years, this mild fascination has grown and in the process he has become an unlikely authority on art.
The collection now dominates the home. Mrs Sherwin says: "I will have to sort of nag at Jeffrey about certain things in the house, like the bathroom is getting very rusty, or there's a hole in the carpet."
The response, she says, is usually: "Oh, it's all right."
Mrs Sherwin also speaks with some tolerance about her husband's penchant for midnight rehangings.
As curator of his own personal art gallery, he produces an extendable reaching gadget and sets about straightening several frames.
British Surrealism Unlocked is at the Abbot Hall Gallery from 11 April to 21 June. Dr Sherwin's book is British Surrealism Opened Up.