Obituary: Mickey Rooney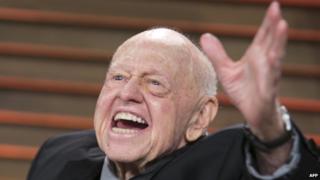 Hollywood's top box office star of 1939, washed up and bankrupt by 1962, Mickey Rooney led a life as dramatic as any of the 200 films to his name.
But by the end of his long career, the small but powerful actor had emerged as one of the more spirited survivors of the studio system.
Initially named Joe Yule Junior, the all-American bundle of energy was the son of two Brooklyn-based vaudevillians. Aged 15 months, the toddler crawled on to the stage with his parents and never looked back.
He sang Pal o' My Cradle Days while sporting a tuxedo and holding a rubber cigar.
Wherever they went, his parents avoided the attention of child welfare services by convincing the authorities their son suffered from restricted growth, according to the Washington Post.
The quintessential cheeky chappie turned his attention to cinema and, by the age of six, had his first film role in Orchids and Ermine.
Starring in a string of two-reel comedies as the spunky newspaper strip hero Mickey McGuire inspired the fledgling actor to change his name.
Hollywood high point
In 1937 and now called Mickey Rooney, the actor took the the part of Andy Hardy in the film A Family Affair. Playing the son of a small-town judge proved a huge box office draw, and spawned a hit series lasting eight years.
At the same time, a series of barnyard musicals paired him with another celebrated studio system youth, Judy Garland. The pair sang and skipped through a catalogue of innocent extravaganzas.
By 1939, Rooney was established as the film industry's top box office draw and married to Ava Gardner. He had Hollywood in his pocket.
His honorary Oscar the previous year had cited his "significant contribution in bringing to the screen the spirit and personification of youth".
Such spirit of youth could be seen very clearly in 1944. Alongside Elizabeth Taylor, Rooney enjoyed international triumph with National Velvet, but his star appeared to be on the wane.
After wartime service interrupted his career, Rooney attempted to translate his wily youthful persona into more mature roles. He took on character parts, such as Mr Yunioshi in Breakfast at Tiffany's (1961) and Ding Bell in It's a Mad, Mad, Mad, Mad World (1963).
But although he earned his third Oscar nomination for his 1956 role in The Bold and the Brave, increasing personal and financial problems took their toll.
Like his studio system friend Judy Garland, Rooney admitted his fame had forced him to grow up too quickly. By the time he was 30, he said he felt 100 years old.
Pete's Dragon
His 200 films had made more than three billion dollars around the world, but in 1962, the veteran of more than 40 years in showbusiness was declared bankrupt, with much of his money going on a reckless lifestyle and alimony to ex-wives. In 1967, he was married to Marge Lane for only a hundred days.
But with depression and advancing middle age, he said he found God through "an angel disguised as a waiter". His career enjoyed a revival with the film Pete's Dragon in 1977, and it came full circle when his hit show Sugar Babies landed on Broadway in the late 1970s. He danced and sang with all his former energy, this time dressed in drag.
Around the same time, he married his eighth wife Jan in what would prove a more enduring union than the previous seven. Asked if he would marry any of them again, he said: "Absolutely. I loved every one of them."
And continuing to work in film, television and theatre well into his 80s in films like Night at the Museum and The Muppets, Mickey Rooney also created the principal motto for his own US Mickey Rooney Old People's Association.
This spirited survivor of both heady triumph and deep adversity proved always capable of following his own advice, to "never retire but inspire".