'I've never really become an adult' - Michael Palin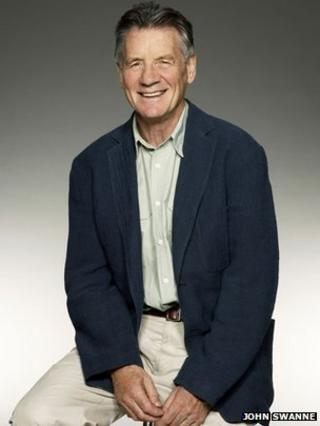 After hitting the stage with Monty Python in July, Michael Palin is to embark on his first ever one-man theatre tour.
"I look with envy at all these people like Sandi Toksvig and Billy Connolly and Kate Bush - they're all at it," Michael Palin says laughingly.
Now the Monty Python star has announced a 21-date UK tour in the autumn to accompany the third volume of his diaries, Travelling to Work 1988-1998.
As the title suggests, the focus is on Palin's transition from comedy performer to television globe-trotter that took off with BBC travel show Around The World in 80 Days.
"I made my name as a travel presenter but at the same time I was desperately keen to try lots of other things," says Palin, in an interview shortly before the tour was announced at the London Book Fair on Tuesday.
"I was coming up to 50 in 1993 and I thought I'd never get the chance again."
Palin's projects in that decade included Alan Bleasdale's TV drama GBH in 1991, in which Palin played a school headmaster intimidated by a newly-elected city council leader, played by Robert Lindsay.
In the past Palin has described GBH as a career highlight, but says his diaries reveal he had "a lot of fear as to whether I was really up to playing a major part like this".
The same year Palin starred in the film American Friends, which he also co-wrote, based on a true story involving his great-grandfather. In 1994 his first stage play, The Weekend, premiered in the West End. Hemingway's Chair, his first novel was published a year later.
"Lots of different things were vying with each other in that period - some of them more successful than others," he recalls.
What has he noticed about going back over his memoirs? "What intrigues me about diaries is how many contradictions there are in it. One day you can feel incredibly clear about the rest of your life and the next you get a phone call and backtrack completely."
Palin admits that while he enjoyed huge popularity with travel shows such as 80 Days, Pole to Pole and Full Circle, he never thought of it as a second career.
"When I was young. I remember thinking 'one day I'll become an adult' and I'd become rather serious and wear a tie and go to cocktail parties.
"But I realised that's not really what it's about. It's about a state of mind. And I've never really, properly become an adult. Nor have I done that other thing that was my father's dearest wish, that I should have a job and career.
"I've always been freelance. I've very much been blown by the winds. Career doesn't really come into it. Looking back now, yes it gave me another branch to my life but I kept all the other things going at the same time."
'You got cut!'
As well as the Monty Python films, Palin's big screen appearances include The Missionary, A Private Function, A Fish Called Wanda and Fierce Creatures.
Palin points out his diary also covers his movie non-appearances. He spent a week filming with Meg Ryan in You've Got Mail, but his scenes were dropped from the final edit. "My friend Basil, who takes all my photos, refers to You've Got Mail as You've Got Cut."
So what did Palin think made him a successful travel presenter? "I think what made the travel series popular was that it was very open. When I was feeling ill on a dhow I'd talk to the camera about it.
"Or I'd make a point that there are toilets at the South Pole looking out over the icy wastes. It was the sort of thing not normally shown in documentaries."
In July, Palin will be back in the spotlight when Monty Python perform a 10 shows at the 02 Arena. I ask him why he thinks Kate Bush recently took the took the similar step of announcing a series of concerts after a long break from the stage.
"Someone might have said: 'You've got a terrific following, why not try some concerts? The Pythons are doing it. They sold out quickly.' I don't know if that made any difference at all."
He adds: "There are all sorts of motives. We're doing ours primarily for money - not through altruistic love for the audience, although we're going to love doing it.
"I don't know. Maybe Kate Bush has a mortgage problem!"
Michael Palin's Travelling to Work tour begins on 7 September in Crawley and ends in Sheffield on 22 October.