John Lydon to play King Herod in Superstar musical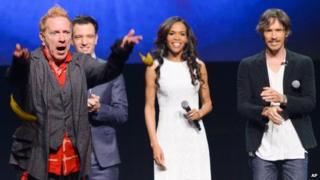 Former Sex Pistols frontman John Lydon is to play King Herod in a US touring production of Jesus Christ Superstar.
The singer, formerly known as Johnny Rotten, will be joined on stage by Michelle Williams of Destiny's Child as Mary Magdalene and JC Chasez of 'N Sync as Pontius Pilate.
"I don't do nothing easy, right?" said Lydon at a press launch for the show.
"I do it because I believe in this and I think we can make this work in a much more different way."
As well as the all-star supporting cast, the production will feature ITV talent show winner Ben Forster as Jesus.
He previously played the son of God in the UK production of Sir Tim Rice and Lord Andrew Lloyd Webber's musical, where his cast-mates included former Radio 1 DJ Chris Moyles and Spice Girl Mel C.
The actor said that recreating his role in North America was "a dream come true".
"For a musical theatre performer like I am, there's no bigger part to play," he told reporters.
"It's not hard to sing and someone with such a great story so, for me it's the ultimate."
The musical centres around the last week's of Jesus' life, beginning with his entry into Jerusalem.
His popularity and incendiary statements makes him unpopular with the ruling Roman Empire, which puts him on trial, ultimately leading to his crucifixion.
The musical marked an early collaboration between Sir Tim and Lord Lloyd-Webber, and came two years after their Old Testament show Joseph and the Amazing Technicolor Dreamcoat.
As with the UK production, the revamped US production of Jesus Christ Superstar will tour arenas and sports halls, rather than local theatres.
"There's always been, for me, something a little bit constraining about it in a theatre," said Lord Lloyd-Webber. "We wrote it as a rock album and not as a stage show.
"I shall never forget its first live performance in the Civic Arena, Pittsburgh on 12 July, 1971. Of course 'JCS' subsequently became a legit theatre stalwart, but I, personally, have always hankered after seeing it again in the arenas where it started."
The US tour kicks off on 9 June, 2014 in New Orleans and includes stops in Toronto, Chicago, Los Angeles and New York before closing in Philadelphia in August.