Alan Davie: Scottish painter dies aged 93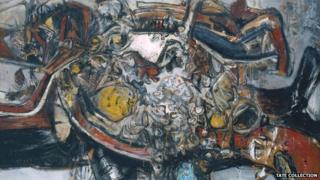 Scottish painter and printmaker Alan Davie has died aged 93.
The Tate gallery describes his "kaleidoscopic canvases" as "the result of an improvisatory process that the artist relates to his love of jazz".
The artist's work is also being displayed at Tate Britain as part of the BP Spotlights series from 14 April.
"Alan Davie died peacefully at home on 5th April," said London's Gimpel Fils gallery, which is holding an exhibition of his work later this month.
Davie was born in Grangemouth, near Falkirk on 28 September 1920, the son of a schoolmaster and amateur artist who him to draw from childhood.
The artist initially trained as a painter at Edinburgh College of Art from 1938 to 1940.
Davie was a talented musician, learning the saxophone after seeing Coleman Hawkins playing in an Edinburgh record shop.
"I borrowed £600 from my father so that I could buy an instrument and it just went from there," he said in a recent interview.
He encountered modernism in London when he saw Picasso and Paul Klee in 1945 but did not take up painting at the start of his career.
Instead he earned money by working as a jazz musician in 1947 and then by making jewellery from 1949 to 1953. He also wrote poetry during the 1940s and, from 1953 to 1956, taught at London's Central School of Arts and Crafts.
By the 1960s, he had returned to painting and his work showed an interest in "myth", as well as symbolically representing birth, procreation and death "in many cultures", according to the Tate.
"I work in a great variety of styles and I don't make a distinction in the way I paint. All my images are made in order to uncover the hidden unknown," said Davie.
The Tate said he named his works after finishing them and that he came up with the title Birth of Venus, one of his artworks, after seeing in it "a distinct suggestion of the primeval womb, birth place, cavern, source of fruitfulness and love".