Paddington Bear author Michael Bond writes new book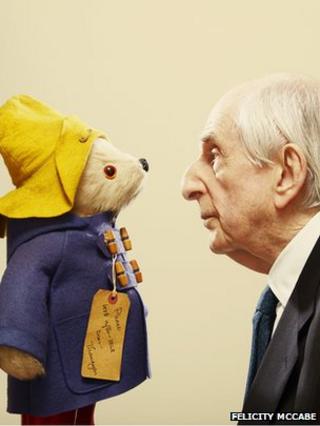 Paddington Bear author Michael Bond has written a book which details letters from the wayward bear to his Aunt Lucy in darkest Peru.
Love From Paddington is to be published in November by Harper Collins.
In the original children's stories which first appeared in 1958, the bear was named after the London station where he was found by the Brown family.
Bond, 88, said of his latest work: "It isn't generally known, but bears are very good at writing letters."
The letters recount Paddington's adventures in London and how he met the Brown family.
Bond's first book, A Bear Called Paddington, has continually been in print for more than 50 years.
The forthcoming computer-animated film about Paddington, due out later this year, stars Colin Firth as the marmalade-loving bear, Hugh Bonneville as Mr Brown, Sally Hawkins as Mrs Brown and Nicole Kidman as a villain.
The cast includes Jim Broadbent and Julie Walters.
Former BBC cameraman Bond began writing during World War Two when he was serving in the Royal Air Force and the Middlesex Regiment of the British Army.
He started with numerous short stories and radio plays and his work took off after his agent suggested he turn a radio play into a children's play.
The hugely popular Paddington stories were first made into an animated TV series in 1975 and have been re-imagined a number of times.
The Paddington books have sold more than 35 million copies around the world and have been translated into more than 40 languages.