Maria Miller and the arts: The verdict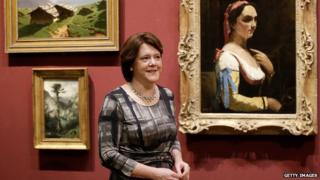 In her resignation letter as culture secretary, Maria Miller said she was "immensely proud" of her work in the cabinet.
She gave special mention to two areas: her part in legalising same-sex marriage, and the implementation of press regulation - something she acknowledged would "always be controversial for the press".
However, with these two issues taking up the majority of Miller's time, many in the arts world felt that she was never fully across the "cultural" element of her remit.
BBC arts editor Will Gompertz said the arts community had been "largely ambivalent to a culture secretary who, it suspected, wasn't particularly interested in culture".
"Several people I spoke to expressed surprise that she was unable to find the time to visit Derry-Londonderry during its year as UK City of Culture in 2013," he added.
Barrie Rutter, artistic director of theatre company Northern Broadsides went further, branding Miller "inept" and "inane".
"[She] didn't know her portfolio at all, she was just parachuted or catapulted in," he said.
"I think it's an insult from high powers of the establishment that they continue to treat the creative imagination of the artists of this country in that way.
"No one's really wanted the job, or not seen it as a stepping ladder to somewhere else, since Chris Smith," said Rutter, referring to the Labour politician who served as Tony Blair's culture secretary from 1997 to 2001.
However, official statements on Miller's resignation from the UK's biggest arts institutions have been largely complimentary.
The Royal Shakespeare Company said it "very much appreciated" her recognition of "the importance of culture" to communities, and "her explicit statement that culture and creativity play a central role in all children's education".
"We wish her well," said Arts Council England.
"Maria Miller spent a great deal of time listening to the cultural sector and understood... what it means to people and how it helps shape our image abroad," said chief executive Alan Davey.
He said she would be remembered for developments like theatre tax relief, the World War I commemorations and additional funding for the cultural gifts scheme.
However, former newspaper editor Roy Greenslade said he felt Miller's track record had not been impressive.
He said she handed over the biggest task she faced - press regulation - to cabinet colleague Oliver Letwin, taking "a junior or minor role" for herself.
Looking forward
Miller's replacement was announced within hours - Financial Secretary to the Treasury, Sajid Javid. So what will be his biggest challenges?
Greenslade said a change of minister would have "no material effect" on the issue of press regulation, as it was "set in stone" - but that Javid could influence the "huge subject" of the BBC licence fee.
"I would like a new minister to institute a series of open forums to discuss how we're going to fund the BBC in the future," said Greenslade.
"I think that's a matter for wide discussion - within the BBC, within government, and I think there should be open forums around the country which are addressed by the government and by interested parties."
Javid, being a man, will no longer have to shoulder the role of minister for women, so that will slim down his responsibilities. However, Rutter would like to see this taken further.
"The first thing would be to ask parliament and his bosses to reduce the size of this portfolio," he said.
"Look at what they have to do; broadcasting, sport, media - including Leveson, telecoms, art. It is a very, very big portfolio. I wish the arts could be separate, like it used to be, with its own minister."
Director of Liverpool Biennial, Sally Tallant, said it was a tough time for anyone working in the public sector.
"What we need are politicians that are willing to argue for something that makes us a unique place to live and work," said Tallant.
"Maria Miller did make a strong case for public sector investment in the arts, and she was beginning to make very powerful arguments for the intrinsic value of the arts."
The Young Vic's artistic director David Lan agreed that Miller had been starting to make inroads in this area.
"In the last three or four months, she began to speak about the value of cultural education in schools in a way she hadn't done before," he said. "It's a shame she's not in a position to act on that."
Both Lan and theatre director Samuel West, chair of the National Campaign for the Arts, said they hoped Javid's former Treasury job would help him understand the importance of public funding for a sector that is economically "punching well above our weight".
"The recent success of director Steve McQueen at the Oscars - he was a Turner Prize winner, Film 4 supported, official Iraq war artist, now widely seen as one of the most exciting directors on the planet - shows how seed-funding can nurture and grow our artists," said West to the BBC.
However, he also hoped Javid would not ask the sector to prove "the financial value of the arts" again - as Miller did in her first big speech.
"What's needed is a more far-sighted vision that sees the creative industries as not just profitable financially but good for people's physical and mental health, their continuing education and their sense of self," said West.
"As things which bring joy, in fact."