Sir Alan Ayckbourn play 'still holds up' 27 years on, says author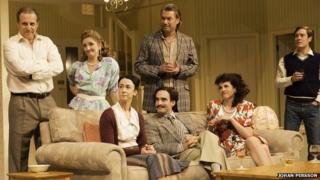 Veteran playwright Sir Alan Ayckbourn says he is "delighted" a play he wrote about greedy entrepreneurs during the Thatcher era still "holds up" on stage.
"It didn't seem like a play of the late 1980s," the 74-year-old told BBC News after the first night of A Small Family Business at the National Theatre.
"I haven't changed a single word," the dramatist continued. "People were just as awful then as they are now."
The play has been revived in the same theatre where it made its 1987 debut.
The black comedy tells of a respectable businessman with high ideals who gradually turns corrupt as he tries to arrest the decline of his family's ailing furniture makers.
The new production, one of the last to be presented under Sir Nicholas Hytner's artistic directorship, sees Nigel Lindsay take on a role famously played by Sir Michael Gambon in the National's original staging.
According to its writer, the play's critique of a culture in which financial gain trumps personal morality remains just as relevant almost three decades on.
"Hardly a day goes by without some politician being exposed with their expenses," he said on Tuesday. "Everybody seems to be fiddling the system and the media portrays everything as suspect.
"It got labelled at the time as a broadside attack on the Thatcher government, but I really didn't mean it like that," the playwright continued.
"I meant it more generally, in terms of society losing its moral compass a bit. It seemed to me that 'Thou shalt not kill' had became replaced by 'Thou shalt make a lot of money'."
'Funny and farcical'
Adam Penford's "fine" revival has received a four-star review from the Daily Telegraph's Charles Spencer that praises it for delivering "both laughs and chills".
Sir Alan's "response to the greed-is-good amorality of the Thatcherite eighties... is often funny and farcical", he goes on, but "leaves a distinctly bitter aftertaste".
The Times' Dominic Maxwell was more qualified with his praise, calling the play "B-list Ayckbourn" for all its moments of "relishable comic intrigue".
Yet he said the author "keeps the story ticking over ingeniously" and that "the pointedness of the satire is as relevant as ever at a time of MPs' expenses scandals".
A Small Family Business continues in repertoire in the National's Olivier auditorium and will be broadcast live to cinemas on 12 June.
The latter initiative marks a rare big-screen outing for a prolific writer whose plays have only occasionally made the transition from stage to film.
The author admits he "thoroughly hated" Michael Winner's 1989 adaptation of A Chorus of Disapproval, saying of the late film-maker that "he had the delicacy of Mike Tyson".
In recent years, however, Sir Alan has enjoyed better fortunes at the hands of French director Alain Resnais, who adapted three of his plays for the screen and was planning to film a fourth at the time of his death in March.
"I was very sad when Alain went," the playwright said of his near-namesake. "He always wanted to recreate the feeling of theatre in his films.
"I've had the privilege of seeing Life of Riley" - the third of Resnais's Ayckbourn adaptations, based on the latter's 2010 play of the same name - "and it's a beautiful piece of work.
"I said to him, 'why are we so close in so many ways?' He said, 'I make plays for the cinema and you make films for the theatre.'
"His widow said that just before he was taken into hospital for the last time he was working on my last play, Arrivals and Departures. God knows what he would have done with that."