Macaws battle Marvel for UK box office top spot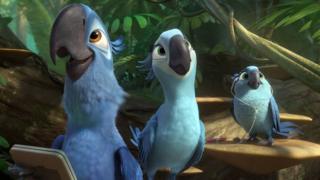 Animated sequel Rio 2 has flown to the top of the UK and Ireland box office chart - though the bird-based adventure needed two days of previews to do it.
If takings from those early screenings were excluded, Marvel film Captain America: The Winter Soldier was the top draw between Friday and Sunday.
Rio 2 made £2.88m in its first week in cinemas, more than the £2.76m Marvel's movie made in its second weekend.
The animation's total includes the £703,000 it made on 29 and 30 March.
Featuring the voices of Jesse Eisenberg and Anne Hathaway, Rio 2 sees the blue macaws swap Copacabana Beach for the Amazon rainforest.
The sequel performed considerably better than the original, which only needed weekend takings of £1.5m to top the UK and Ireland box office chart in April 2011.
Captain America: The Winter Soldier, the latest big-screen outing for the Marvel superhero, has now made almost £11m since arriving in UK cinemas on 26 March.
Its second weekend performance was enough to leave Russell Crowe's Biblical blockbuster Noah in third place with an admittedly impressive first weekend haul of £2.5m.
The epic retelling of the Bible story left teen sci-fi Divergent floundering in its wake, consigned to fourth place with a first weekend tally of £1.76m.
Muppets Most Wanted was the only title in this week's Top 5 not to make more than £1 million between Friday and Sunday, though its second weekend takings of £897,395 will not see Miss Piggy short of jewels any time soon.
With Wes Anderson's The Grand Budapest Hotel continuing to win fans at six, this week's seventh place was left to the Met Opera of New York's live relay of La Boheme.
Franco Zeffirelli's production of Puccini's classic took £374,522 from 166 sites - putting it one place ahead of Richard Ayoade's dark comedy The Double, a new entry at eight with takings of £281,794.