Jeremy Paxman to talk beards in one-man Edinburgh show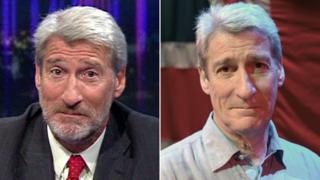 The public outcry over Jeremy Paxman's beard last year has given the Newsnight presenter fodder for a one-man show at the Edinburgh Fringe Festival.
PAXO will see Paxman discussing topics such as "pogonophobia" - an abnormal fear or dislike of beards.
The show in August will also allow the audience to turn the tables and "quiz the grand inquisitor", renowned for his confrontational interviewing style.
Other subjects being pondered include "underpants and the human condition".
"I have no idea why I'm doing this," revealed Paxman. "Some fool said you only regret the things in life that you don't do, but I'm regretting this already."
However, the show's director Sarah Esdaile said she was looking forward to "harnessing Jeremy's positive mental attitude" and promised "a little insight into the enigmatic Mr Paxman and what makes him tick".
Paxman's beard trended on Twitter after its debut on BBC Two's Newsnight last August.
However, he shaved it off for the new year, telling Radio Times magazine: "If a chap can't shave on holiday, what can he do? Beards are so 2013."
PAXO will run from the 18-25 August at the Pleasance Cabaret Bar.