Peaches Geldof: Body released for funeral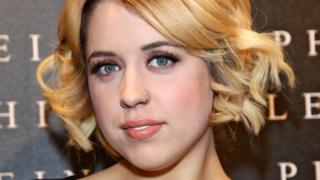 The body of Peaches Geldof has been released to her family to allow for funeral arrangements to be made.
It comes a day after a post-mortem into the 25-year-old's death proved inconclusive.
That prompted further toxicology tests, the results of which are due in two to three weeks.
Geldof, the daughter of singer Bob Geldof and TV presenter Paula Yates died on Monday. Police are treating the death as "non-suspicious" and "sudden".
A spokesman for North West Kent coroner Roger Hatch said: "We can confirm that the body has been released to the family for funeral arrangements to be made."
Any inquest is not expected to be opened and adjourned by the coroner until after the results of the toxicology tests are known.
Geldof's body was found on Monday afternoon after officers were called to the home she shared with her husband and two young sons "following a report of concern for the welfare of a woman".
Her father, the former frontman of Boomtown Rats, said the family was "beyond pain" and described Peaches as "the wildest, funniest, cleverest, wittiest and the most bonkers of all of us".
Other tributes came from Fearne Cotton, Sir Alan Sugar, Lily Allen and Geldof's elder sister Fifi Trixibelle, who posted on Instagram: "My beautiful baby sister.... Gone but never forgotten. I love you Peaches x."
The 25-year-old, a TV presenter and magazine columnist, lost her own mother to a heroin overdose at the age of 11.
She married US musician Max Drummey in Las Vegas in 2008, but the couple split amicably a year later before divorcing in 2011.
She married Thomas Cohen, lead singer of London band Scum, in September 2012 at the church in Davington, Kent, where her parents married 26 years earlier.
It was also where her mother's funeral was held.
The couple had two sons: Astala, aged 23 months, and Phaedra, aged 11 months.
In a statement released on Monday, Cohen said: "My beloved wife Peaches was adored by myself and her two sons.
"I shall bring them up with their mother in their hearts everyday. We shall love her forever."