War Horse musicians seek reinstatement after live music axe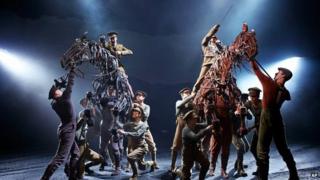 Five musicians have taken legal action against the National Theatre after being stripped of their roles in the West End production of War Horse.
The musicians are seeking a High Court injunction to be allowed back into the show until the full case can be heard.
The High Court heard the National Theatre had opted to use pre-recorded music instead of live performers.
The group said they had continued to show up for nightly performances only to be turned away.
The five, who had been with the hit show since 2009, had their roles cut back in March 2013 to just a few minutes per performance, until live music was cut altogether in March this year.
Lawyers for the five - Neyire Ashworth, Andrew Callard, Jonathan Eddie, David Holt and Colin Rae - told the court they were given 11 days notice of the contract termination but had continued to arrive on time for daily shows.
'Not an integral part'
"The claimants have not accepted this breach of their contracts, and have elected to affirm their contracts. They have at all times made it clear that they remain willing and able to attend work and to perform their obligations under their contracts," said James Laddie QC.
The National Theatre contests that it was bringing the London production in line with War Horse stage shows around the world, which do not use live music.
Representing the National Theatre, David Reade QC said the theatre was entitled to terminate the contracts of anyone whose services were no longer required.
He told the judge - who admitted he had not seen the show - that War Horse was a play which featured music rather than a full-blown musical.
"As such, the orchestra was not an integral part of the play, and indeed there is no live band in any other production around the world," said Mr Reade.
He added that it was "frankly naive" to think the musicians could return to their previous roles, and that a new cast had spent seven weeks rehearsing without live music.
He said the National was not questioning the ability of the musicians but theatre management believed its live music budget would be better used elsewhere.
Judge Mr Justice Cranston said he would deliver his ruling on 15 April.
War Horse is one of the National Theatre's most successful productions during the tenure of outgoing artistic director Sir Nicholas Hytner, having been seen by more than 2.5m people worldwide.