Derek: Ricky Gervais waves goodbye to irony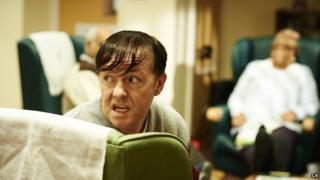 Comic Ricky Gervais is feeling pretty happy with his lot. As his surprisingly heart-warming mockumentary Derek returns to Channel 4 for a second series, Gervais explains his upbeat mood.
"The second series is always my favourite as a writer/director, you can hit the ground running... so that's fun," he says.
Gervais will reprise his role as Derek Noakes, a vulnerable 50-year-old man who works in a retirement home.
The character was originally developed for Gervais's stand-up shows and was initially "steeped in irony".
"The first routine [where] I did him live, this guy wanted to be on the telly, wanted to be famous... but I've done enough [on fame] - The Office, Extras, Golden Globes," Gervais explains.
"I wanted to go back to ordinary people, I always try to do the ordinary made extraordinary."
Gervais makes clear that Derek is a conscious change of direction from his previous TV work.
"What makes Derek a different kind of sitcom - if it is even a sitcom - is its sincerity. Certainly the last few years, and I'm responsible for a lot of it, there's been this comedy of cynicism and irony. I've tried to leave that behind. There's more sincerity, which sometimes confuses people because they're looking for the undercutting joke."
And with the theme of fame behind him, he adds: "I've got re-addicted to normal people which is the loveliest thing to write about."
Derek began its TV life as a pilot on Channel 4 in 2012 before it was commissioned for a full series - the programme initially drew criticism over suggestions the central character mocked people with learning difficulties.
At the time, Gervais defended the character of Derek, telling disability rights campaigner Nicky Clark: "Derek is a fictional character and is defined by his creator, me.
"If I say I don't mean him to be disabled then that's it. A fictional doctor can't come along and prove me wrong. He's different. But then so are a lot of people."
He now describes Derek as "not burdened by peer pressure like we all are, he's sort of all of us. He's certainly me when I was eight or nine, before I worried about what was cool."
In series two, Derek is also reunited with his co-workers including Hannah (Kerry Godliman) and Dougie (Karl Pilkington). There are also some new - and new-ish faces - including Derek's dad (Tony Rohr), who made a brief appearance in the last episode of series one and now returns as he moves into the retirement home.
"Most people are like Hannah and Vicky, Kev and Dougie, they're not like Brad Pitt, Johnny Depp and Martin Scorsese," jokes Gervais.
The comic is keen to get under the skin of those "real" people - and one of his favourite themes is "men acting childishly", which he describes as "my weakness".
"They just should know better, men don't grow up - that's always the theme I've had, women as adults and men as boys. Women don't act like that! Proper stupidity is fascinating."
And one of those men - Derek's friend Kev, played by David Earle - is one of his favourite characters to write for.
"That's pure fun, that's ridiculous, I giggle because it's so childish and adolescent."
"I like Kev, he's been unlucky. He's consumed by drink and bad luck and he almost revels in it - ie 'Ok, if you think I'm scum, I'm going to act like scum.' Kev is alright compared to most real people on modern reality shows. Kev's a stray dog. I want people to not treat him as human and then realise he is, just like I did with David Brent (in The Office). Everyone laughed at David Brent until he cried for his job back."
Another of his favourite themes, Gervais explains, is "women as lionesses".
In one scene in an episode in series two, Hannah is seen attacking a young care worker's abusive boyfriend.
"I think it's important you don't just have to be mumsy to be a good mother, sometimes you have to protect as a mum," says Gervais.
"Growing up, my female role models were strong. I wanted to show that Hannah was really caring and honest and lovely and she would batter you. I like real girl power."
Gervais's breakout series The Office (2001 - 2003) was also a mock documentary but the comic believes reality shows have changed since then.
"The Office is like a quaint little docu-soap that you'd have seen in the 90s. The reality shows now are horrendous. They are people throwing up and fighting, then you meet their parents and they're slightly worse… there's no shame. The ultimate was when I saw Celebrity Enema, I thought that's it, people will do anything to be famous now."
Phil Clarke, head of comedy at Channel 4, describes Derek as "a labour of love… Ricky doesn't have to do this at this stage in his career".
But Gervais says: "That's always been the case, I've never had to do this, I do it because there's not a better way to spend your day. It's playing for me. Creativity is playing - children have it until it's bullied out of them. A job as a writer/director is to get people as excited about something as you are."
But his ultimate aim is to make an emotional impact.
"I love it when it affected someone. That's the point really - the point of any art, even one as low as TV comedy, is to make a connection."
Derek airs at 22:00 BST on Channel 4 on Wednesday 23 April.