Jeremy Kyle Show breaks Ofcom rules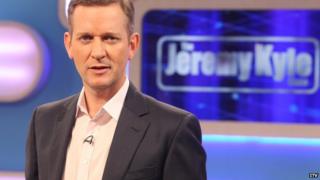 ITV's Jeremy Kyle Show has been found in breach of Ofcom rules for failing to inform viewers about the care and safety of a teenage participant.
An episode broadcast last September featured a 17-year-old girl who had "failed" a lie detector test when questioned about stealing.
A viewer complained to the regulator, concerned about the subsequent distress the girl displayed during the show.
Ofcom said ITV should have explained to viewers how it protected her welfare.
The 17-year-old appeared visibly distressed during the edition which showed her being confronted by her older sister over apparently stealing items from their mother.
The teenager was shown at times shouting, crying and breathing heavily both backstage and in front of a studio audience.
'Exceeded expectations'
Ofcom said the "degree of humiliation and distress" displayed by the younger sister "exceeded the more typical editorial content of this programme" - which is known for its confrontational style.
It added the edition would have "exceeded the expectations of the audience, unless sufficient context had been provided to minimise or avoid this offence".
The regulator said while it was satisfied ITV provided sufficient counselling care and support to all its participants before, during and after production, it was not referred to in the broadcast.
It said statements made at the end of the programme by Kyle, offering support to the family, were not clearly extended to the younger sister to reassure viewers "regarding her welfare and to minimise the offence caused by her humiliation and distress".
Ofcom concluded it was not ITV's intention to mislead audiences regarding the safety, welfare and dignity of the teenager - who would likely have appeared to viewers as vulnerable - however it should have provided sufficient information to viewers as to the steps it had taken to limit her distress.