Obituary: Joan Rivers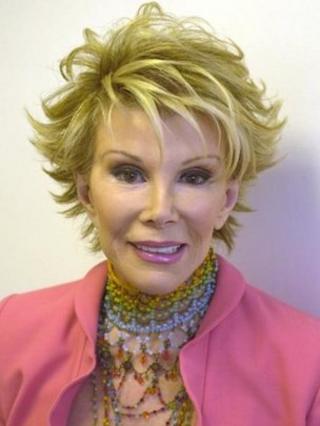 Her outrageous style made Joan Rivers one of the most successful female comedians of her generation.
Her stage act veered from vitriolic attacks on fellow celebrities to a fine line in self-deprecation.
Mentored by Johnny Carson, she became famous on a string of US TV chat shows.
She also overcame mountainous debts and the suicide of her second husband.
"Comedy," Rivers once said, "helps to ease the pain."
She was born Joan Alexandra Molinsky in Brooklyn, New York, on 8 June 1933, into a family of Jewish immigrants who had fled the Russian revolution.
"I was not an attractive child," she later recalled. "When I didn't use my Girl Scout's uniform as a uniform, I used it as a tent."
She graduated in English Literature before taking a series of jobs including working as a tour guide, a proofreader and a fashion adviser in an upmarket men's clothing store.
She began performing in local theatres. In one play, Driftwood, she played a lesbian with a crush on a character played by Barbra Streisand, then a completely unknown performer.
Las Vegas
A theatrical agent, Tony Rivers, suggested she adopt a stage name so she decided to take his.
In the early 1960s, she was performing in a number of New York comedy clubs, leading to her appearance as a guest on NBC's The Tonight Show, then hosted by Jack Parr.
She began working as a writer and performer on Candid Camera, where she lured unsuspecting members of the public into ludicrous situations that were captured on camera.
Her return to The Tonight Show in 1965 proved a pivotal point in her career.
The new host, Johnny Carson, became her mentor and over the following 20 years she became an ever-present fixture on the programme, sometimes filling in when Carson was away.
This led to other work. She hosted her own TV shows and also found time to release a couple of comedy records.
She also became noticed as a scriptwriter, providing material for Bob Newhart and Phyllis Diller.
Her live performances included stints in Las Vegas, where she became a popular warm-up act for a variety of stars.
She also published a book, The Life and Hard Times of Heidi Abramowitz, based on the brassy stage persona she cultivated in her stand-up comedy acts.
Banned
The book was full of typical Rivers one-liners. "She's been responsible for more Merry men than Robin Hood," was a typical example.
But her life and career were both about to take a turn for the worse. In 1986, she was approached by Fox TV, which was about to launch in the US.
Fox offered Rivers her own late-night talk show, which would go out at the same time as Johnny Carson's on NBC.
Carson, who found out about the move from Fox, rather than Rivers herself, was furious. He never spoke to her again.
NBC also banned her from appearing on The Tonight Show, a ban that extended past Carson's death in 2005.
Her stint with Fox was to be short lived. Her husband Edgar Rosenberg, who had been producing her new show, was fired by Fox in 1987.
When she protested to Fox managers, she too was given her marching orders. Three months later, her husband committed suicide.
Hugely popular
She bounced back with her own TV show in 1989. Rivers, who wrote most of the material, played herself, the sassy blonde delivering quick one-liners, and featured a roll-call of guests including Bob Hope, Dolly Parton and Liza Minnelli.
While following a familiar US TV daytime format, it was adjudged good enough to be nominated for a number of Daytime Emmy Awards.
She also made a name for herself in a series of red carpet interviews for an entertainment channel where she was able to indulge her sport of celebrity baiting.
She had signed up to do the show after discovering a failed business venture had left her millions of dollars in debt.
Rivers also made a number of appearances in the TV drama Nip/Tuck, which was set in a centre performing cosmetic surgery.
It was an apt role for the comedienne, who made no secret of the numerous procedures she herself underwent. Indeed, they became part of her act.
"I wish I had a twin, so I could know what I'd look like without plastic surgery," was one of her quips.
The title of her 2009 book, Men Are Stupid... And They Like Big Boobs: A Woman's Guide to Beauty Through Plastic Surgery, aptly summed up her feelings.
Her humour was hugely popular in the UK, where she regularly appeared on TV and at venues like the Royal Albert Hall.
She also became a favourite of the Prince of Wales and was invited to his wedding with Camilla Parker Bowles in 2005.
In February 2014, she finally got an invitation to come back on to The Tonight Show, her first appearance on the programme for 30 years.
She told Variety magazine it was about time: "I've been sitting in a taxi outside NBC with the meter running since 1987."
Joan Rivers set the standard for a host of brash women comedians who followed her.
Her style of humour shocked some people but delighted others. "I tell the truth," she once said. "I say not only what I think, but what everyone thinks."