Donna Tartt wins Pulitzer Prize for fiction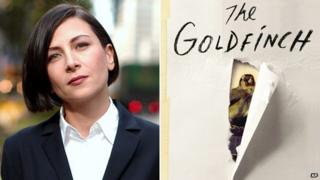 Author Donna Tartt has been awarded this year's Pulitzer Prize for fiction for her critically acclaimed third novel The Goldfinch.
The Secret History author said she was "incredibly happy and incredibly honoured" by the award.
Annie Baker's play The Flick won the Pulitzer for drama while Vijay Seshadri won the poetry prize for 3 Sections.
US historian Alan Taylor earned his second Pulitzer for The Internal Enemy: Slavery and War In Virginia.
Tartt's 784-page bestseller The Goldfinch, which was named Amazon's 2013 book of the year, is set in modern Manhattan and tells the story of a young orphan coming to terms with the death of his mother.
Columbia University, which awards the prize, said judges described it as "a beautifully written coming-of-age novel … that stimulates the mind and touches the heart.
The book, which is in the running for this year's Bailey's Women's Prize for Fiction in the UK, beat two other nominees, The Son by Philip Meyer and The Woman Who Lost Her Soul by Bob Shacochis.
Fans of Tartt had waited a decade since her second novel The Little Friend, which many had found disappointing after her strong 1992 debut The Secret History.
"The only thing I am sorry about is that Willie Morris and Barry Hannah aren't here," said Tartt, referring to two authors who were her early mentors.
"They would have loved this," she added.
Last month it was reported by The Wrap that a film version or TV series of The Goldfinch is in the works, by the producers behind The Hunger Games.
An education
Other arts winners included Dan Fagin's book Toms River: A Story of Science and Salvation in the non-fiction category, while composer John Luther Adams was awarded the music prize for Become Ocean.
Judges called his piece "a haunting orchestral work that suggests a relentless tidal surge, evoking thoughts of melting polar ice and rising sea levels".
The biography prize was awarded to Megan Marshall's Margaret Fuller: A New American Life, about the 19th-Century intellectual and transcendentalist.
Colonial historian Taylor said writing The Internal Enemy had been an education for him.
He found documents showing how escaped slaves had assisted the British during the War of 1812 and were an important factor in the British capture of Washington, DC.
"This is a story I had known nothing about and I was supposed to be a specialist," said Taylor.
Among this year's journalism Pulitzer Prizes, the award for public service journalism was shared by The Guardian and Washington Post for a series of stories based on documents leaked by former National Security Agency contractor Edward Snowden.