Relative Values divides critics at West End debut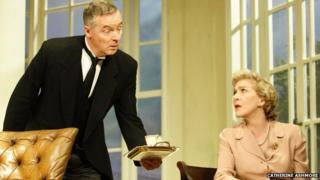 Sir Trevor Nunn's revival of the Noel Coward play Relative Values, starring Patricia Hodge and Rory Bremner, has divided critics on its opening night.
The 1951 play examining the class divide was "ideal for our Downton-obsessed times", said The Telegraph.
But it was "a piece rancid with snobbery", countered The Guardian.
Bremner said of his West End debut: "A lot of people start at the bottom and work their way up, I'm starting at the top and working my way down."
He added: "I've been incredibly lucky, I honestly didn't see myself doing a play at any stage and and it's been an extraordinary experience to get the chance to be in a West End play.
"It's down to Trevor, who I met 15 years ago at a party on his boat and he said: 'We must do something together, I'll call you,' and about 13 years later a call comes, and thank God 'cause it's been brilliant."
The play opened at Theatre Royal Bath last year with Bremner in the role of Crestwell, faithful butler at Marshwood Hall, home to the Countess, played by Patricia Hodge. The hall is thrown into disarray when the countess's son announces he is to wed a US movie star.
No one is more upset than the countess's maid Moxie, played by Caroline Quentin, who reveals an unusual connection with the Hollywood leading lady.
Writing in the Telegraph, Charles Spencer said the play "has exactly the right lightness of touch", adding it was "likely to provide nothing but pleasure to those who admire Coward's wit and stylish insouciance".
Of Coward's playful examination of the classes and snobbery, Bremner told the BBC, "it's remarkable how much of it has survived".
"My character talks about all class barriers being swept away and only last year there was that survey, where there used to be upper, middle and lower classes that have given way to five or six new ones and I think it is still a very British obsession.
"What is interesting now is this fascination we have with Downton Abbey. There was a hierarchy which worked in both directions, the servants were expected to know their place and the aristocrats knew their place as well, whether it be working in politics or doing work for charities. It kind of functioned.
"Noel Coward, very much like Julian Fellowes, was aware that in this hierarchy there were some very tender and genuine relationships.
"Underneath his extraordinary satire and his observation, there's a tenderness in this, and that's what Trevor has found."
However, Michael Billington, in the Guardian, said "Compared with the crisp brilliance of his plays of the 1930s and 1940s, the plotting seems loose and the dialogue flabby."
He praised the cast, calling Hodge "flawless as the conniving countess," adding "Quentin lends the moody Moxie a permanent sense of comic disgruntlement, Steven Pacey ingeniously finds a gay subtext in the underwritten character of the countess's nephew, and Leigh Zimmerman invests the invasive movie star with a grace and dignity that makes you feel she's the one who'd be marrying beneath her".
But he adds: "While there's much pleasure to be had from the stylish acting and direction, Coward's play remains a musty, tribal relic in praise of the class system."
The Stage review calls the play a "tourist-friendly production," adding it "ought to find a successful second lease of life in the West End".
It added it was "a mannered, untaxing, old-fashioned and (very occasionally) laboured play".
But it added that "the evening is lifted by some of the bonnest of Coward's bon mots and the ensemble's accomplished comic timing played out on Stephen Brimson Lewis's stunning library set."
Writer Kathy Lette was there and tweeted: "Noel Coward's #Relativevalues a v classy play. Literally as its all about class. Patricia Hodge, rorybremnar... all hilarious."