Public Enemy star Flavor Flav admits attempted battery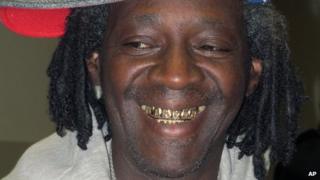 Public Enemy rapper Flavor Flav has pleaded guilty to attempted battery after pulling a knife on the teenage son of his long-term girlfriend during an argument at their Las Vegas home.
The rapper, whose real name is William Jonathan Drayton, had been facing more serious assault charges which carried a prison sentence of up to 12 years.
The boy said the musician had threatened to kill him.
Drayton has since reconciled with his girlfriend and received counselling.
In court, Drayton told the judge: "I love my son and my son loves me, too."
The 55-year-old rapper and reality TV personality admitted wielding a kitchen knife during the fight on 17 October 2012.
The teenager, who is now 18, testified that Drayton chased him to a bedroom and stabbed the knife through the door.
He and his mother were not in court when Drayton pleaded guilty to attempted battery that could have caused substantial injury and battery constituting domestic violence.
Outside court, Drayton said: "I'm standing here in front of the camera, not behind bars."
If Drayton violates the terms of his plea deal, he could face up to a year in jail, the judge said.
Public Enemy, the group that Drayton founded with fellow rapper Chuck D, are considered one of the most influential hip-hop groups of all time and were inducted into the Rock and Roll Hall of Fame in 2013.
Drayton has also starred in several reality TV series, including The Surreal Life, Strange Love, and Flavor of Love.