Martin Freeman warms up for Richard III by freezing in Fargo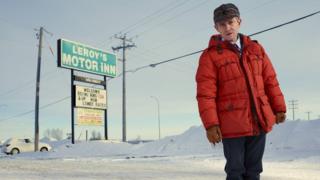 Actor Martin Freeman, best known for The Office and Sherlock, talks to BBC News about his chilly new role in a TV version of Fargo and preparing to play Richard III in London's West End.
From Tim Canterbury in TV's The Office and John Watson in Sherlock to Bilbo Baggins in the Hobbit films, actor Martin Freeman has often found himself typecast as sweet-natured, dependable, stoic salts-of-the-earth.
His latest project, however, sees him take on a far more ambivalent and morally suspect character - while his next will find him playing one of the all-time great stage villains.
The Martin makeover kicks off this week with Fargo, a TV adaptation of the Oscar-winning 1996 film that casts the British actor as a hen-pecked Minnesotan who gets mixed up in murder.
It continues in July when the 42-year-old takes the title role in Richard III, a new production of William Shakespeare's history play that marks his first professional encounter with the Bard.
"When you get known for something, you get a few more of those roles and before you know it you're in people's consciousness as that thing," Freeman tells the BBC News website.
"But I'm not just that optimistic, nice person or mild-mannered sweetheart next door. So it's nice when people see something in me that isn't Love Actually."
Freeman is referring to Richard Curtis's 2003 romantic comedy, in which he appeared as a love-struck movie stand-in obliged to simulate naked intercourse with an actress he secretly fancies.
Some may recall that Billy Bob Thornton also had a role in that star-laden affair, a nugget of movie trivia that takes on an additional resonance now that he and Freeman have been cast beside each other in the Fargo TV series.
"We'd never met on Love Actually but we got on instantly like a house on fire," says Freeman. "As soon as we had our first line run it was apparent it was going to be a breeze.
"It's nice as well when you're working with an actor who you like watching. I was enjoying his performance as Martin, even as I was horrified by it as Lester."
The Lester that Freeman refers to is one Lester Nygard, a downtrodden insurance salesman whom the actor describes as "unconfident and pretty much scared of his own shadow".
"He's someone who's been apologising all his life and who has no control over his life," he goes on.
"He's married to a woman who doesn't shower him with love, and he's in a not very good job he's not very good at."
A chance encounter with Thornton's character, a mysterious and possibly malevolent drifter named Lorne Malvo, sets Lester's life on a different and wholly unexpected trajectory.
"His mind is opened up to the possibilities to how life can be," Freeman explains. "He doesn't have to keep being a victim and on the receiving end of life and can take it in his own hands a little bit."
Before you ask, this is not the Fargo you may remember.
The characters are different, the story is a new one and there is no room for Marge Gunderson, the pregnant police chief Frances McDormand won an Oscar for playing in the Coen brothers original.
Yet the blackly comic tone and sudden bursts of graphic violence will be all too familiar to fans of the film-making siblings' oeuvre.
Joel and Ethan Coen, for the record, serve as the new Fargo's executive producers - an endorsement missing from an earlier attempt to turn their film into a TV series that did not make it past pilot stage in 1997.
"Obviously it inhabits the same universe, the same world, but it's not the same people," says Freeman. "I hope that after five minutes of watching our first episode, you won't be thinking about the film any more.
"The general tone of the piece was right up my street, and I do think it's its own thing. If it hadn't have been called Fargo, I'd still have wanted to do it."
One aspect from the original remains resolutely unchanged - the wintry, snowbound landscape against which the action unfolds.
Freeman admits that shooting in Calgary, Canada, in temperatures that would sometimes descend to 40 degrees below freezing was "not always comfortable".
"It's not easy to act in - your lips and your face stop moving - and you couldn't not wear a hat," he recalls.
"But I was actually looking forward to being that cold. It was something I wanted to experience, and I'm quite pleased I did."
Fargo's appearance on British TV screens will coincide with rehearsals for Richard III, which will run at London's Trafalgar Studios from 1 July to 27 September.
"It's my first Shakespeare professionally, so it's good that it's something that will ease me in gently," Freeman laughs. "It's probably a ridiculous idea but I'm very excited about it."
How did Freeman feel, though, when he heard his Sherlock co-star Benedict Cumberbatch is to offer his own take on Richard III in a BBC dramatisation of the play? "Surprised," he concedes.
"I didn't see it coming but fair enough - it's in the public domain and actors are allowed to do it."
Fargo begins on Channel 4 on 20 April.