Bryan Singer sex abuse claim 'absurd', says lawyer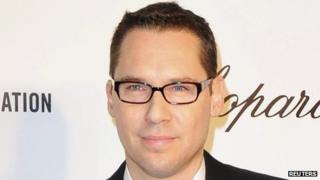 Claims that X-Men director Bryan Singer sexually abused a teenager in 1999 have been dismissed as "completely without merit" by the film-maker's lawyer.
Attorney Marty Singer said the legal action, filed in Hawaii on Wednesday, was "absurd and defamatory".
Singer is accused of forcing Michael Egan III into sex during parties in California and Hawaii when Mr Egan, then an teenage actor, was 17 years old.
"We are very confident that Bryan will be vindicated," said Marty Singer.
"It is obvious that this case was filed in an attempt to get publicity at the time when Bryan's new movie" - superhero sequel X-Men: Days of Future Past - "is about to open in a few weeks."
According to the Hollywood Reporter, the alleged abuse took place at mansions in Encino, California and Kailua, Hawaii.
Mr Egan, a former child model and aspiring actor who is now 31, claims he was lured into a sex ring and forced to have sex with adult men at parties at which Singer was allegedly present.
His legal action states that he is seeking more than $75,000 (£44,500) for each of the four charges, listed as battery, assault, invasion of privacy and intentional infliction of emotional distress.
"Hollywood has a problem with the sexual exploitation of children," said Mr Egan's attorney Jeff Herman.
Mr Herman previously represented plaintiffs who accused Sesame Street puppeteer Kevin Clash of sexually abusing them, most of whose legal actions were subsequently dismissed.
Singer, 48, has directed three instalments in the lucrative X-Men franchise, beginning with the first X-Men film in 2000.
His other credits include The Usual Suspects, Superman Returns and last year's Jack the Giant Slayer.