Ai Weiwei to exhibit in former Yorkshire chapel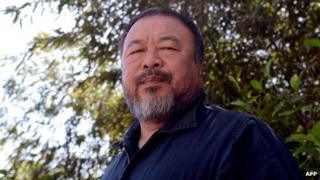 Artist Ai Weiwei has chosen a former chapel in Yorkshire as the venue for his next UK exhibition.
He will send 45 antique Chinese chairs to be laid out in the 18th Century chapel at Yorkshire Sculpture Park.
They will be shown alongside three sculptures from 24 May.
It will be Ai's first exhibition in a public British gallery since he filled Tate Modern's Turbine Hall with thousands of porcelain sunflower seeds in 2010.
Ai will not travel to the sculpture park, near Wakefield, for the occasion. A strident opponent of the Chinese state, his passport has been confiscated and his travel strictly limited.
The wooden chairs are part of his Fairytale-1001 Chairs series and date from the Qing Dynasty, which lasted from 1644 to 1911/12. Visitors will be invited to "take a seat and consider freedom, refuge, sanctuary and their antonyms".
A six-metre Iron Tree sculpture will also be on show, as will his porcelain sculpture Ruyi and the marble Lantern. The exhibition will reopen the chapel after a £500,000 refurbishment.
As well as being an outspoken dissident, Ai is one of the world's most celebrated contemporary artists. He was the highest-placed artist on ArtReview magazine's annual power list last year.