Jack White cuts single in four hours for Record Store Day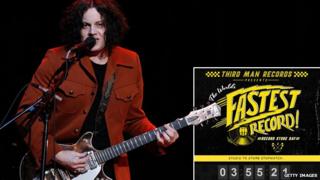 Jack White has recorded, cut and sold a seven-inch single in four hours, as part of the celebrations for Record Store Day.
White took to the stage at his Third Man Records' store in Nashville at 10:00 on Saturday and played two songs.
They were cut directly to an acetate disc, which was rushed to a pressing plant. The finished records were on sale within three hours and 55 minutes.
The ex-White Stripes frontman claimed to have set a world record as a result.
Guinness World Records says Swiss polka trio Vollgas Kompanie currently hold the title for "fastest album release", having issued their album Live on 16 August, 2008, the day after it was recorded.
British rock band Marillion have the record for "fastest music DVD release", taking just 10 hours to film, edit and press copies of their concert movie Clocks Already Ticking.
However, there is no current record for fastest single release - possibly because the iTunes era allows songs to go on sale within minutes of being completed.
Paul McCartney and U2 are believed to have set a record in 2005, when their Live 8 performance of Sgt Pepper's Lonely Hearts Club Band was purchased 45 minutes after being performed on stage in London's Hyde Park.
"I never even looked into who has the fastest record," White admitted to reporters during a press conference on Saturday afternoon.
The musician said he was more concerned with making sure the record got made at all.
"I woke up at about four in the morning last night, and I thought, 'Wow. I think there's about 12 or 13 things that could really go wrong tomorrow,' he told The Tennessean.
"I just thought how difficult it was going to be to explain to people if we didn't pull it off, so thank God we did."
The single comprised Lazaretto, the title track to White's forthcoming album, and a cover of Elvis Presley's 1969 song Power of My Love.
"Originally, we were just gonna do this record and go back to sleep," White told the audience.
Instead, he played an hour-long set, including a mix of new songs and White Stripes favourites such as Hotel Yorba and Dead Leaves and the Dirty Ground.
His single was one of more than 600 special releases for Record Store Day, which aims to attract fans into independent music retailers.
Among the collectible items were a picture disc of David Bowie's Rock 'n' Roll Suicide, a five LP box set of LCD Soundsystem's farewell concert and a glow-in-the-dark edition of the Ghostbusters theme song.
There was also new material available, including the first pressing of Paul Weller's latest single Brand New Toy, and an album of unreleased recordings by Gil Scott-Heron.
There were limited numbers of each - with the stock distributed to record shops at random.
As a result, hundreds of people queued outside shops like Sister Ray in London, Love Music in Glasgow and Resident Music in Brighton, hoping to get their hands on a rarity.
Many stores put on special performances - with 90s indie band Cud playing at their local store, Leeds' Jumbo Records, and Adam Ant appearing in London's Rough Trade West.
Since it began in the US in 2008, the campaign has become increasingly significant to independent stores.
Some retailers say they take more money during the 24-hour event than in Christmas Week.