Crouching Tiger, Hidden Dragon prequel to be filmed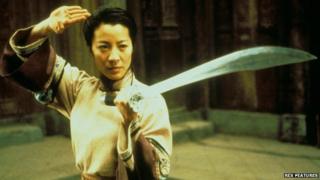 Filming on a prequel to Oscar-winning martial arts film Crouching Tiger, Hidden Dragon will start in July
Titled The Green Destiny, the movie will see Michelle Yeoh reprise her role as female warrior Yu Shu Lien.
Pre-production is believed to have begun. Filming is due to start in Auckland, New Zealand, with two further weeks of shooting in China.
Yuen Woo-ping, who co-ordinated the action scenes in the original, will step behind the camera for the prequel.
Crouching Tiger, Hidden Dragon remains the most successful Chinese-language film of all time, making $213.5m (£127m) on its release in 2000.
It won the best foreign-language Oscar the following year, with three more awards in the technical categories.
Part of the reason for the film's success was that it operated on many different levels. It was a love story, a martial arts fantasy with a feminist twist and an historical epic set against a backdrop of spectacular locations in China.
Director Ang Lee also employed sophisticated technology that enabled the characters to perform gravity-defying stunts, drawing in fans of the previous year's box office hit, The Matrix.
But plans for a prequel were delayed by a row over the film rights to Wang Du Lu's novels, on which the film was based.
Columbia Pictures claimed it had struck a deal with the late writer's son in 2005. He denied this, and said he had signed an agreement with The Weinstein Company, another US studio.
With the case resolved, The Weinstein Company is pushing ahead with the prequel, choosing New Zealand as a location thanks to a generous production incentive that offers filmmakers a 20% rebate on money spent in the country.
The Green Destiny draws on the fifth book in Wang's series, Silver Vase, Iron Night.
"This introduces a new generation of star-crossed lovers, and a new series of antagonists in a battle of good and evil," screenwriter John Fusco told movie website Deadline last year.
Although Fusco is known for US blockbusters such as Young Guns I and II, he also penned The Forbidden Kingdom for Jet Li and Jackie Chan in 2008.
The film, which drew on the writer's own martial arts training, broke opening day box office records in China.