Family and friends say farewell to Peaches Geldof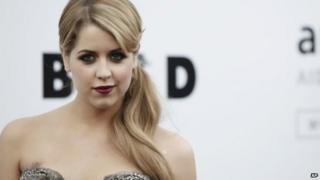 Mourners including Sarah Ferguson, Nick Grimshaw, Bill Wyman and Kate Moss have paid their last respects to Peaches Geldof, at her funeral in Kent.
Her father Bob Geldof was due to give a eulogy during the service, in the church where she was married two years ago.
It is also where the funeral was held for her mother Paula Yates in 2000.
The 25-year-old television presenter, model and socialite, died suddenly two weeks ago at her home.
Flowers were laid outside the St Mary Magdalene and St Lawrence Church in Davington, near Faversham, on Monday morning.
It is located next to Bob Geldof's Davington Priory country estate, where Peaches grew up. The streets were lined with well-wishers and photographers ahead of the service.
A hearse carrying her sky blue coffin drew into the estate shortly before 13:00 BST. It was adorned with a painted picture of Geldof, her husband, their two young sons and pet dogs.
The funeral, at which Peaches' younger sister Pixie had also been expected to speak, was private.
Peaches' ashes are expected to be scattered in the estate's garden.
Geldof's body was found on 7 April at the home she shared with her husband, musician Thomas Cohen and their sons, Astala, 23 months, and 11-month-old Phaedra, in Wrotham, Kent.
Her cause of death is not yet known as a post-mortem test was inconclusive.
The results of toxicology tests are expected in the coming weeks, after which an inquest is expected to be opened.
Police have said the death is being treated as a "non-suspicious, unexplained sudden death".
The former frontman of The Boomtown Rats previously described his daughter as the "wildest, funniest, cleverest, wittiest and the most bonkers of all of us".
St Mary Magdalene and St Lawrence Church is also where Bob Geldof and television presenter Paula Yates married in 1986.