Spider-Man swoops to top of UK box office chart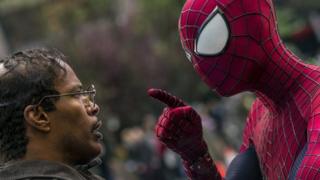 Spider-Man has swung to the top of the UK and Ireland box office chart after his latest film registered the biggest cinema opening of the year so far.
The Amazing Spider-Man 2 took more than £9m at cinemas last weekend, according to box office tracker Rentrak.
The figure is more than the rest of the Top 10 put together.
The film sees Andrew Garfield reprise his role as the web-slinging superhero in the second instalment of the franchise.
But its first week takings were down on those for the first film, which earned £11.1m when it opened in 2012.
Elsewhere in this week's chart, animated jungle adventure Rio 2 rose one place to two with takings of £1.1m.
Biblical epic Noah stayed afloat at number three with earnings of £921,000. On Wednesday, its distributor Paramount Pictures announced the Russell Crowe film had earned more than $300m (£178m) at the worldwide box office.
Last week's top film, Captain America: The Winter Soldier, dropped to fourth place after taking £832,000.
The top five was completed by The Love Punch, a new entry starring Pierce Brosnan and Emma Thompson as a middle-aged couple who take part in a heist to recover stolen investment money.
Teen sci-fi Divergent dropped out of the top five to six, while British horror film The Quiet Ones - last week's highest new entry at five - fell out of the Top 10 altogether.