Hull Truck theatre gets £400,000 bail-out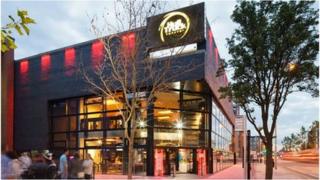 The Hull Truck theatre has received £400,000 in emergency grants to help it out of financial crisis.
The venue received £300,000 from Arts Council England and £100,000 from Hull City Council earlier this year.
Arts Council England had already given £1m in 2011 and 2012 because it was at "immediate and serious financial risk".
The theatre has struggled since moving into a new £15m building in 2009 and is due to be one of the main venues when Hull is UK City of Culture in 2017.
Hull Truck became a national force in the 1970s before cementing its reputation under playwright John Godber, who was artistic director for 26 years until 2010.
But it became burdened by costs from the new building and declining income and was also lambasted for abolishing the post of artistic director and changing its artistic direction.
The emergency grants from Arts Council England come on top of the venue's £540,000 regular annual funding.
The criteria for such "financial intervention" say recipients will be at "immediate and serious financial risk".
Hull City Council councillor Darren Hale told BBC Radio Humberside: "Hull Truck had a shortage in their funding and they needed this money to keep sound and operational.
"Obviously we see them as an important part of our economy and weren't prepared to sit seeing them have major financial difficulties that might have jeopardised their future."
He added: "We have made it quite clear though that the city council doesn't have a blank cheque and we would want there to be some financial reform within Hull Truck to ensure that they can put their funding, going forward, on a more stable financial footing.
"They certainly had some financial difficulties, which is why they came to us to seek some additional funding. But I wouldn't say it was on the verge of going bust."
'Historically underfunded'
The venue reinstated the artistic director post in 2013 and appointed Mark Babych - whose first production, A Taste of Honey, opened in March.
He told Radio Humberside the theatre had been "historically underfunded" and the £400,000 was "a really great vote of confidence in Hull" from the city council and Arts Council.
"This is all about achieving stability," he said. "When the new management team came in what we really wanted to do is find a way of achieving a more robust organisation - artistically but also financially.
"We're absolutely confident we can come through it. We're working on a new business plan. A Taste of Honey was really well received - we got four star reviews, it exceeded our audience and financial targets."
'Vital role'
The recession had been "a key factor" in the problems, he added. "Theatres all over the country are suffering in the same way," he said.
"This is a national issue about rebalancing the cultural spend away from the major metropolitan areas to other areas of least engagement.
"Nobody wants this continual ask at all. This is simply about stabilising us so that we can really deliver an excellent programme for 2017 and beyond and make us more robust."
Pete Massey, Arts Council England's acting director for the north, praised Hull Truck for producing "high quality theatre reaching diverse audiences in Hull and beyond".
"We recognise the role the theatre plays as part of the fabric of the city's distinctive cultural offering as well as more widely across East Yorkshire and North Lincolnshire and their vital role in delivering a successful City of Culture for Hull in 2017," he said.
"The grant allocated to the theatre was specifically to support its ongoing financial resilience and to ensure it can continue to deliver at the high standards its audiences have come to expect."