Jed Mercurio to adapt Lady Chatterley's Lover for BBC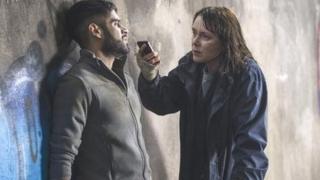 Jed Mercurio, the writer behind hit TV drama Line of Duty, is adapting Lady Chatterley's Lover for BBC One.
The 90-minute film of DH Lawrence's risque novel forms part of a BBC season of 20th Century literary adaptations.
The season will include adaptations of LP Hartley's book The Go-Between, Laurie Lee's Cider With Rosie and JB Priestley's play An Inspector Calls.
BBC One's Charlotte Moore called them "uniquely intense and personal stories about people living... 100 years ago".
"These four classic novels each represent a real moment in our recent history when Britain was on the cusp of great social and cultural change," said Moore.
'Labour of love'
Hartley's The Go-Between will be adapted by Adrian Hodges, who wrote the screenplay for the film My Week With Marilyn and is credited with creating the BBC series The Musketeers.
The Bafta-nominated writer called the adaptation "a labour of love" and "the fulfilment of a personal ambition".
Previously adapted for the screen in 1970, by Harold Pinter, the tale of forbidden love featured an all-star cast led by Alan Bates and Julie Christie.
Laurie Lee's memoir of his childhood in a Cotswold village will be adapted by Ben Vanstone and directed by Philippa Lowthorpe, while An Inspector Calls will be directed by Aisling Walsh, who wrote and directed 2003's Song for a Raggy Boy.
Mercurio, who is also working on a third and fourth series of Line of Duty, called Lady Chatterley's Lover "a milestone of English literature".
"I'm immensely excited by this opportunity to dramatise its iconic themes in a fresh and original way," he said.
The book, which was banned for almost 30 years when it was originally published in 1928, was last adapted for British television in 1993 with Joely Richardson as Lady Chatterley and Sean Bean as the gamekeeper, Mellors.
"I hope that, viewed together, these four masterpieces will present an intelligent and involving picture of what it was like to live in Britain 100 years ago," said BBC drama controller Ben Stephenson.