Beyonce leads Time's 100 most influential people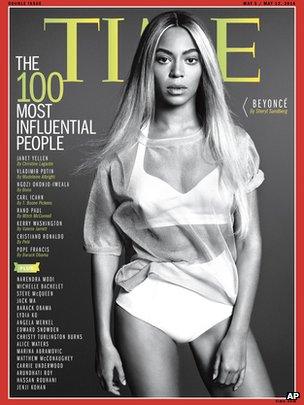 Singer Beyonce has been selected as the cover star for Time magazine's special 100 most influential people issue.
She was profiled by Facebook executive Sheryl Sandberg, who said the 32-year-old "doesn't just sit at the table. She builds a better one."
The pair recently collaborated on a campaign to ban the use of the word "bossy" to describe women at work.
Others who made the list included Pope Francis - profiled by Barack Obama, who also featured - and Pharrell Williams.
British stars considered among the world's most influential people include Sherlock's Benedict Cumberbatch - championed by fellow actor Colin Firth - and 12 Years a Slave director Steve McQueen, dubbed "a visionary" by one of the film's star Lupita Nyong'o.
Scandal actress Kerry Washington, American Hustle star Amy Adams and intelligence whistleblower Edward Snowden also made the list, as did Robert Lopez and Kristen Anderson-Lopez who wrote the soundtrack to hit Disney film Frozen.
Miley Cyrus was championed by her godmother Dolly Parton who said: "If I didn't know how smart and talented Miley is, I might worry about her", before adding "I did it my way, so why can't she do it her way?"
Beyonce was credited with having "shattered music-industry rules - and sales records" when she released her surprise album in December last year.
Sandberg, who shared her own perspective on women in the workplace in her book Lean In last year, championed Beyonce as "The Boss".
"She raises her voice both on and offstage to urge women to be independent and lead," she wrote.
Beyonce's career has gone from strength to strength since her days in Destiny's Child. It has taken in film roles and a fashion line, alongside sold out world tours such as last year's Mrs Carter Show.
Sandberg added: "Her secret: hard work, honesty and authenticity."
Oscar-winning actor Matthew McConaughey, House of Cards star Robin Wright and Pulitzer Prize-winning author Donna Tartt are also regarded as hugely influential.
Gravity director Alfonso Cuaron made the list for providing "some of the most arresting, visually stunning work in recent cinema", according to Star Trek director JJ Abrams.
Photo messaging app Snapchat creators Evan Spiegel and Bobby Murphy and Amazon founder Jeff Bezos also featured on the list, alongside politicians like Hilary Clinton, Germany's Angela Merkel and Russian leader Vladimir Putin.
Actor, director and Sundance Film Festival creator Robert Redford - "the godfather of indie film" according to Hollywood producer Harvey Weinstein - was also honoured, as was fashion designer Phoebe Philo and American Idol winner and country star Carrie Underwood.
Super-producer Pharrell Williams made the list for "having way too much fun", according to Justin Timberlake, whose debut solo album was produced by Williams.
"He made me fearless, and I've carried that with me the rest of my life," he said.
Related Internet Links
The BBC is not responsible for the content of external sites.