Roger Daltrey honoured for teenage cancer work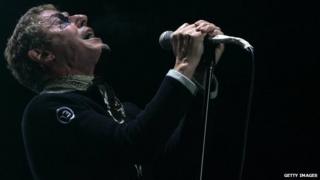 The Who frontman Roger Daltrey has won a major music industry prize for his work with the Teenage Cancer Trust.
The singer has organised the charity's annual concerts at the Royal Albert Hall, booking artists like Arctic Monkeys, Tinie Tempah and Paul Weller.
Presenting the outstanding contribution prize at the Music Week awards, Weller praised Daltrey's "tireless, fantastic work" for a "very worthwhile charity."
Ed Sheeran, Robert Plant and Sir Paul McCartney also paid tribute.
"Hey!" Sir Paul said in a taped message. "I've been watching the progress for years now, and you're doing a fantastic job.
"I know the kids appreciate it so much. So Mr Daltrey... Roger... Sir, well done."
Daltrey, who is a patron of the trust, used his speech to thank the musicians and comedians who had taken part in his fundraising shows.
"I didn't do this, I just got the idea," he said. "The music business, the comedy industry, you're the ones that have made it happen.
"Keep it going, we do great work. We lead the world in music, and now we lead the world in the way teenagers are treated with cancer.
"We're pushing it out in America, Australia, New Zealand, Germany… Everywhere. Onward we go. Thank you."
'Music industry hero'
The Music Week awards are organised by the industry's trade magazine, mainly rewarding those who help discover, promote and support artists.
BBC 6 Music won radio station of the year for the third time running, and sent Level 42's Mark King to the stage to accept the award alongside presenters Shaun Keaveny and Steve Lamacq.
Best radio show went to John Kennedy at XFM, while best independent record shop went to Brighton's Resident, which is celebrating its 10th birthday.
Ian McAndrew and Geoff Barradale, who look after the Arctic Monkeys, were jointly named manager of the year, while Atlantic Records won plaudits for Rudimental's success in 2013.
The night's main award went to music industry veteran Rob Stringer, a UK music executive who, for the last eight years, has run Columbia Records in Los Angeles.
He has played a key part in the careers of Sade, Beyonce, the Manic Street Preachers, Adele and - as he was constantly reminded on the night - Bros.
Tributes were led by David Bowie, who sent the label boss a written message.
"If you become the object of Rob's enthusiasm, an artist will find a genuine, long-term support that's sadly missing in the recording industry," he said.
"When he asked me if I minded if he took a few Saturdays off from his duties as a percussionist on my album this year, in order to capture the Luton Town Football Club fixtures, how could I refuse?
"It's the least I could offer to the man who, with his own hands, put my album to number one throughout the world."
Other tributes came from Bruce Springsteen, Pharrell Williams and Daft Punk, who called him "a true music industry hero".
Simon Cowell also sent a video message, saying: "When I found out you were getting this award, I actually felt a very strange emotion... I felt happy for someone else."
Stringer was handed his award by Sade, making a rare public appearance.
"It doesn't come easy to me to stand up here in front of you all," she said. "In fact, on the way here a bus came perilously close to my car and I thought 'this could be my get out of jail free card'."
The executive thanked his brother "who taught me you can work for a corporation and still be a decent human being" and his wife, noting: "I only started having hits when I met her."
He introduced the Manic Street Preachers to the stage to close the show, and recalled how their career had nearly ended after the disappearance of lyricist Richie Edwards.
One record company manager had written an internal memo saying "we should cut our losses" and drop the band, he said.
"But one tiny pearl of wisdom from my 30-year career," concluded Stringer, "is when it's a 50-50 decision, come down on the side of the art. Because you never know what might happen."