Jimmy Kimmel's faked twerking video wins Webby Award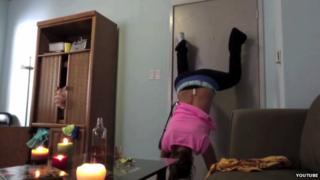 A video of a twerking routine gone horribly wrong has won one of the internet's highest honours.
The "Twerk Fail" clip, which was later revealed to be a fake created by US chat show host Jimmy Kimmel, was named best viral video at the Webbys.
Other winners included the Guardian newspaper, which was honoured for its interactive coverage of the NSA leaks.
BBC News also won two "people's choice" awards, for its online mobile site and also for its news language sites.
The mobile site won in the category for News (handheld devices), while the BBC News language sites on responsive took the award in the best practices category.
The Webby Awards were established in 1996 as a way to recognise "excellence on the internet," according to the company's website.
There are dozens of categories, each with two winners. One is decided by a jury from the International Academy of Digital Arts and Sciences - which includes Netflix star Kevin Spacey and Ariana Huffington - and the other voted for by the public.
Actor and stand-up comic Patton Oswalt will host this year's ceremony to honour the winners in New York next month.
Other big-name winners included Jay Z, who was given a prize for the app accompanying his latest album, Magna Carta Holy Grail.
His wife, Beyonce, was named the people's choice in the fan website category.
Pharrell Williams won the Webby and People's Voice Award for best use of interactive video, thanks to a 24-hour music video for his hit song Happy.
Will Ferrell's Funny Or Die website won three prizes, including two for Zach Galifianakis' spoof talk series Between Two Ferns, which recently starred US President Barack Obama.
Holiday rental site Airbnb and Twitter's video app Vine also took prizes, while The New York Times was named the best news website.
Jimmy Kimmel's "Worst Twerk Fail ever" video was posted on YouTube last September and gained nine million views before the talk show host revealed it had been a set-up.
The clip appeared to show an amateur dancer twerking against a door in her apartment, before falling over onto a table and setting fire to her leggings.
But a "director's cut" of the video, broadcast on Kimmel's nightly show ended with the presenter appearing from behind a door and putting out the flames with a fire extinguisher.
He also revealed the supposed star of the video, Caitlin Heller, was in fact a Hollywood stuntwoman called Daphne Avalon.