Willie Nelson receives fifth-degree black belt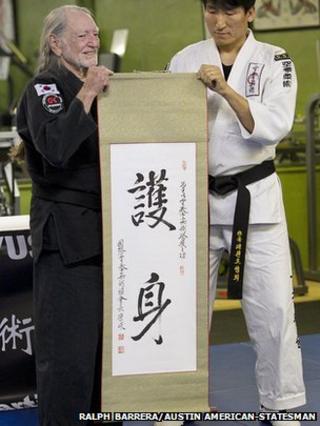 Country singer Willie Nelson has received his fifth-degree black belt in the Korean martial art of Gong Kwon Yu Sul in Austin, Texas.
The star, who celebrates his 81st birthday this week, has been studying the discipline for two decades.
Although he did not show off his skills at the ceremony, Nelson's instructor assured the audience he could hold his own against opponents.
"I'm pretty healthy at 81," Nelson said.
"I think martial arts is one of the best exercises you can do. Mentally, spiritually, physically, everything. I'm sure that's helped."
The Always on my Mind singer said he was "surprised" to be receiving the belt, adding he "never thought about anything beyond second-degree black belt".
Nelson's instructor, Grand Master Sam Um, admitted that, when the singer first turned up at his martial arts studio, he was worried about the strain on his heart because of his age.
However, after training the musician for 20 years, he joked Nelson "has more stamina than I do".
Last weekend, Oscar winner and fellow Texan Matthew McConaughey inducted the singer into the Austin City Limits Hall of Fame.
Austin City Limits is the longest-running US television music show and Nelson was the show's first performer in 1974.
It will start its 40th series this autumn.