Amazing Spider-Man 2 fends off Diaz and Depp challenge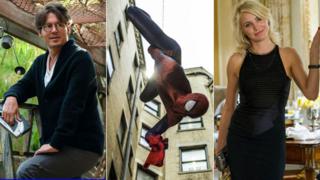 The Amazing Spider-Man 2 comfortably fended off challenges from new films starring Cameron Diaz and Johnny Depp to stay top of the UK box office chart.
The superhero sequel made £3.36 million between Friday and Sunday on its second weekend in cinemas, taking its overall UK and Ireland takings to £16.53m.
Diaz's comedy The Other Woman had to settle for second place, with Depp's sci-fi drama Transcendence at three.
Rio 2 and the latest Captain America film complete a sequel-heavy top five.
Spider-Man's latest adventure enjoyed the biggest cinema opening of the year so far last week, an achievement none of this week's new releases were ever likely to rival.
Yet The Other Woman's opening haul of £2.66m, which includes takings from two days of previews, represents a decent showing for a film that opened to largely negative reviews.
Unfortunately for Depp, the bad buzz that plagued Transcendence when it opened in the US and Canada on 18 April appears to have followed it across the Atlantic.
The film, about a deceased computer genius who lives on in cyberspace, could only muster £1.18m in ticket sales, even with the aid of three days of preview screenings over the Easter weekend.
The Amazing Spider-Man 2 appears on course to swoop past Captain America: The Winter Soldier, which took £579,076 in its fifth weekend in the UK and Ireland, pushing its overall tally to just over £18 million.
Their success points to the continuing appeal of movies based on characters from the Marvel Comics stable, despite emanating from different studios - Sony in Spider-Man's case, and Disney in Captain America's.