Royal Ballet School director Gailene Stock dies, aged 68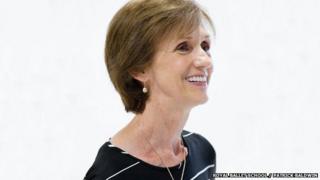 Gailene Stock, director of the Royal Ballet School, has died aged 68 after suffering from cancer.
Born in Australia, she ran the world-renowned school, in Covent Garden, for 15 years.
A dancer from the age of four, she overcame both polio and an horrific car accident to forge a 16-year career as a ballerina in Australia and Canada.
David McAllister, the Australian Ballet's artistic director, described her as "a woman of great importance".
"Her drive and passion were the inspiration for a career that touched thousands and her eye for talent and intelligence made her one of our most significant ballet exports to the world," he added.
Kevin O'Hare, current director of the Royal Ballet, added: "Gailene Stock has made an extraordinary contribution to dance. Her talent, drive and determination, first as a ballerina and subsequently as a much admired teacher, led her finally to her post as director of our own Royal Ballet School.
"Under her direction the school has gone from strength to strength and, on behalf of the Royal Ballet, and in particular all of its dancers... I salute all that she has achieved for them and for the dance world as a whole."
Coma
Stock was born in Ballarat in Victoria, Australia in 1946. After making early steps into the dancing world, she contracted polio aged eight and spent 18 months in an iron frame.
She was told she would probably never walk again, but was back at dancing classes four years later.
She then suffered serious injury when a cement lorry hit her father's car. The 14-year-old was in a coma for three days, but once again pulled back and returned to the dancefloor.
Two years later, in 1962, she was awarded a scholarship to London's Royal Ballet School. At the same time, Dame Peggy van Praagh chose her to be the youngest foundation member of the newly formed Australian Ballet, and Stock deferred her scholarship to join the company.
After a year, Stock took up her scholarship in London, after which she was invited to join The Royal Ballet. She chose instead to return to Australian Ballet, where she spent seven years, rising to principal dancer under director Robert Helpmann.
Stock went on to dance with the company around the world, and appeared in Rudolf Nureyev's film of Don Quixote.
Over the course of her professional career, she was a principal with the National Ballet of Canada and the Royal Winnipeg Ballet.
After the birth of her daughter, Lisa, in 1978 she retired from dancing and was appointed director of the National Theatre Ballet School in Melbourne, then director of the Australian Ballet School.
She moved to London in 1999 to take over the Royal Ballet School. She was accompanied by her husband, Gary Norman, a former principal and ballet master at the Australian Ballet.
Her appointment came when the institution was at something of a low ebb. "That elegance and schooling, that impeccable presentation, that's not there any more," she said at the time.
Stock's response was to place a greater emphasis on contemporary dance and pas de deux. She introduced more public performances, overseas exchanges and competition - all with the goal of preparing students for the rigours of professional life.
She also oversaw the school's move from West London to Covent Garden, and helped establish the Young British Dancer of the Year award.
Under her guidance, the institution saw employment rates for its graduates rise from 48% to nearly 100%, although she received criticism for a drop in the numbers of British-born students.
Stock was appointed to the Order of Australia in 1997. Her CBE in the 2013 Birthday Honours was taken to her hospital bed, where she was being treated for cancer, after being diagnosed with a brain tumour.
During her illness, Jay Jolley took up the role of acting director at the Royal Ballet School.
Stock died peacefully on Tuesday, 29 April, the school announced.
She is survived by her husband and their daughter, Lisa Norman - herself a dancer, who has appeared in the London production of Chicago.