Patrick Stewart to star in Seth MacFarlane TV show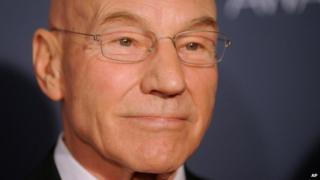 Sir Patrick Stewart is to star in a new comedy series from Family Guy creator Seth MacFarlane.
Blunt Talk will feature the 73-year-old as British newsman Walter Blunt, who goes to America to conquer cable news and educate the masses on how to live.
US cable network Starz has ordered 20 episodes over two series, to begin next year.
It will be Sir Patrick's first regular TV role since Star Trek: The Next Generation, which ran from 1987 - 1994.
The new show will see the veteran actor as the host of an interview show, who shares his often unwanted guidance while dealing with a dysfunctional news staff, numerous ex-wives, children and an alcoholic assistant.
The series will be written and produced by Jonathan Ames, the creator of HBO comedy Bored to Death. MacFarlane - who hailed Sir Patrick as "one of the greatest actors alive today" - will serve as executive producer.
Ames said it had "been a delight" to work with both Sir Patrick and MacFarlane on the show, although he had at times found it tricky.
"The only problem is that sometimes on conference calls Seth will uncannily recreate Patrick's voice, and I'm not sure who's talking, but other than that it's been smooth sailing," he said.
Sir Patrick has worked with MacFarlane numerous times in recent years.
He has voiced several characters in adult animation Family Guy, and has a recurring role on American Dad! He also served as the narrator on MacFarlane's 2012 film Ted.
"My career took an abrupt and radical left turn when Seth MacFarlane created CIA deputy director Avery Bullock on American Dad," said Sir Patrick, who will next be seen on the big screen in X-Men: Days of Future Past.
"This new character, Walter Blunt, is not at all like Avery, thank God, because this is live action and I am a Knight of the Realm.
"Blunt is, however, much smarter than Avery and has his own TV show, which has to be better than being deputy director of the CIA."
Starz' chief executive officer Chris Albrecht added: "In the character of Walter Blunt, Seth, Jonathan and Patrick have found the alchemy that makes a borderline alcoholic, mad-genius-Brit the man you want fighting in America's corner.
"Seth and Jonathan have struck the right balance between biting wit and outright absurdity in building this world, and we cannot wait for Patrick to breathe life into Walter."