Wilko Johnson has radical cancer surgery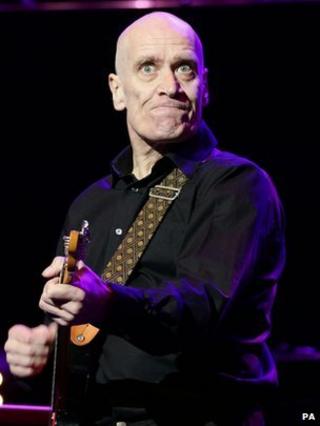 Former Dr Feelgood guitarist Wilko Johnson has had a major operation in an attempt to treat his pancreatic cancer.
Johnson was diagnosed at the end of 2012 and was given 10 months to live after rejecting chemotherapy.
But he defied the doctors' predictions and it was recently found that his tumour was less aggressive than normal.
He has now had the "football-size tumour" removed as well as his pancreas, spleen and part of his stomach. He has cancelled 14 concerts.
A statement said: "Doctors are hopeful that following the surgery the prognosis for Wilko will be positive."
The musician gave an interview to Tony Parsons for GQ magazine before the operation.
"A friend of mine - who is both a photographer and a cancer doctor - became curious as to why I wasn't dead. And why I wasn't even sick," he told Parsons.
Johnson's tumour was found to be a rare type called a neuroendocrine tumour.
According to Pancreatic Cancer UK, these account for less than 5% of all pancreatic tumours and tend to grow much more slowly than other types.
'Extraordinary development'
The operation also involved the removal of Johnson's small and large intestines and the removal and reconstruction of blood vessels relating to the liver, Parsons reported.
"In this extraordinary development, Wilko has undergone an unprecedented operation that is nothing less than a reprieve of a death sentence," he wrote.
After the tumour was first discovered, Johnson spoke strikingly about how the diagnosis had given him a new outlook on life.
"We walked out of there [the hospital] and I felt an elation of spirit," he told BBC Radio 4's Front Row.
"You're walking along and suddenly you're vividly alive. You're looking at the trees and the sky and everything and it's just, 'Whoah.'"
'Out of action'
A farewell tour has since come and gone, and he has continued to be well enough to perform. He supported Status Quo in March and April.
He also recorded an album with The Who singer Roger Daltrey, which is currently in the UK top 20.
However he has now cancelled all forthcoming concerts while he recovers from the operation. He had 14 gigs scheduled between May and July.
The statement, released on Wednesday, said: "Dr Feelgood legend Wilko Johnson has today reluctantly had to cancel all of his public engagements.
"Wilko, currently riding high in the UK album chart with the Roger Daltrey collaboration Going Back Home, has sought further advice about his pancreatic cancer and as a result has undergone a medical procedure that will see him out of action for the foreseeable future."