Van Dyck appeal keeps self-portrait in UK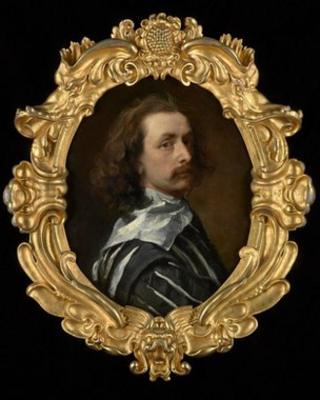 The National Portrait Gallery has successfully raised the £10m required to keep Sir Anthony Van Dyck's final self-portrait in the country.
The target was reached with the help of a public appeal, that saw 10,000 individuals donating more than £1.4m.
Painted shortly before the Flemish artist died in 1641, it has been called "one of the finest and most important self-portraits" in British art.
It had been sold abroad in 2013 before a temporary export ban was imposed.
The buyer was billionaire art collector James Stunt - the son-in-law of Formula 1 boss Bernie Ecclestone.
He decided to withdraw his claim to the painting in March, after witnessing "the people's passion" to keep the painting in the UK.
It was then offered to the National Portrait Gallery (NPG) for £10m, a reduction on the original price of £12.5m.
That sum has now been raised, including a £500,000 grant from the Art Fund and £700,000 from the NPG's own budget.
National tour
"Van Dyck is one of the greatest artists to have worked in Britain," said National Portrait Gallery director Sandy Nairne, when the campaign to save the painting was launched last year.
"No other artist has had such a dramatic impact on British portraiture. He decisively turned it away from the stiff, formal approach of Tudor and Jacobean painting, developing a distinctive fluid, painterly style that was to dominate portraiture well into the 20th century.
Sir Anthony Van Dyck was born in Antwerp and became court artist for King Charles I in London in 1632.
The monarch gave him a knighthood, a golden chain and a £200 salary for his flattering portraits, which made the frail king seem imposing and powerful.
He painted only three self-portraits while in England, and it is the last of those that has been saved
Made only months before he died aged 42, it is housed in an elaborate, Italianate-English frame with a sunflower motif associated with the artist.
In 2009, it was sold for £8.3m at auction - nearly three times the estimate - breaking the previous auction record of £3.06m for his painting A Rearing Stallion.
It will be on view at the National Portrait Gallery in London until the end of August, before embarking on a three-year national tour, starting in 2015.