Doctor Who star Matt Smith set for Terminator reboot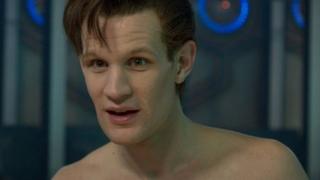 Paramount Pictures has announced Matt Smith is to star opposite Arnold Schwarzenegger in the reboot of the Terminator franchise.
The Doctor Who star will play "a new character with a strong connection to John Connor".
Other stars announced include Game of Thrones actress Emilia Clarke and Zero Dark Thirty actor Jason Clarke.
The film, which is due to be released in July 2015, is being directed by Thor filmmaker Alan Taylor.
Smith, who has been replaced as the Doctor by Scots actor Peter Capaldi in the BBC hit drama will next be seen on the big screen in the film Lost River, directed by Ryan Gosling.
He was seen earlier this year on stage in London in the musical stage adaptation of American Psycho.
The Terminator franchise was launched in 1984 with Schwarzenegger as the title character, a cyborg sent back through time to kill the mother of the unborn leader of the human resistance in the war against machines.
The film, directed by James Cameron, has since spawned three subsequent films, which have earned more than $1 billion at the worldwide box office.